Summit County covers a large area of Ohio that includes cities like Akron and is currently home to over half a million people. And believe it or not, the oldest building in the entire county is the first one that was ever built in the area. A small, white farmhouse that is located in the small town of Hudson.
David Hudson, the city's namesake, was a wealthy Connecticut Western Reserve shareholder who moved his family there in the year 1800 after a brief survey of the area less than a year before. It only took him one quick look at the gorgeous landscape to decide it's where he wanted to plant his roots and live out the rest of his days. So he built that home from the ground up and lived there until his passing in 1838.
Hudson grew slowly at first with only 13 citizens calling it home over the first couple of years after it was settled. But as time went on, the city played a key role in the Civil War and afterward began to grow rapidly into the affluent Cleveland suburb it is today.
Anyone thinking about moving to Hudson will find great people, plenty of fun things to do, and some beautiful real estate options. Read on to learn everything you need to know about living in this wonderful city.
1. City of Landmarks and Rich History
Built in 1912, under the direction of a local millionaire named James Ellsworth, the Hudson Clock Tower is one of the most recognizable landmarks in the entire state of Ohio. The Romanesque style clock is powered by an electric motor with more than 3,000 pounds of weight and pulleys as the Westminster chimes go off every hour. It is a beautiful site located right in the middle of town.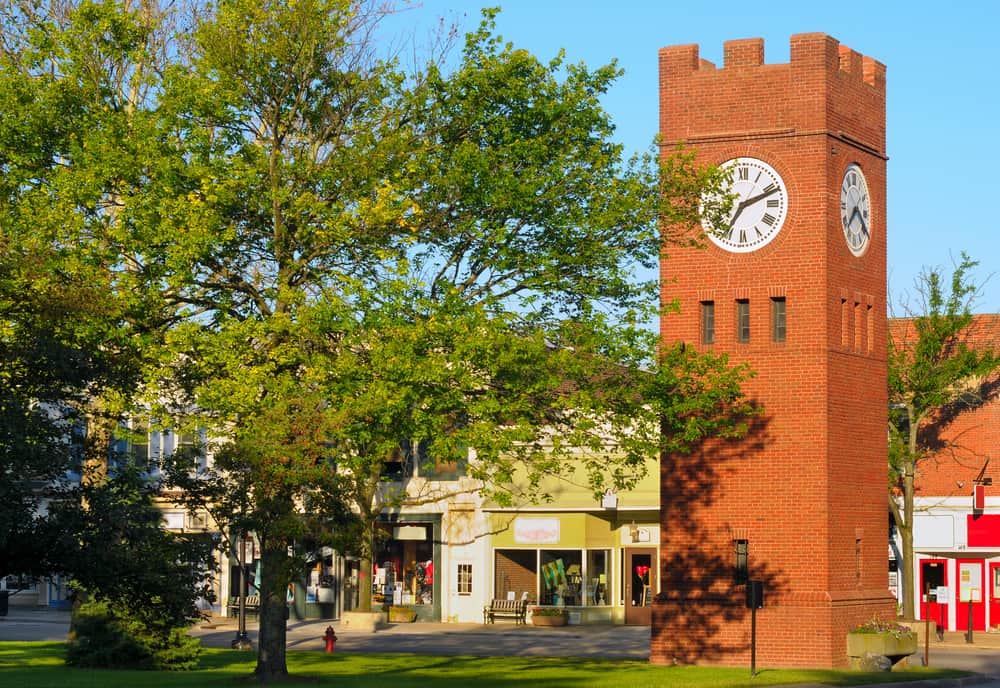 This small area also played a critical part in the country's abolitionist movement during the early to mid-19th century. The Underground Railroad was a vast network of paths and trails and Hudson was one of the Ohio cities it passed through. Many of the local farmhouses and other buildings still standing within the city were used as safe houses for slaves trying to escape.
2. People of Hudson
Although it isn't a large area, with a population of around 22,000 people, residents are proud of their small and friendly community. The city has a median age of around 39 years old, giving it a good balance of young couples, families, and people who have retired. Many of the locals are well educated, with about 70% of residents possessing a Bachelor's Degree or higher.
Hudson is considered a mid to upper-class city as the average income currently sits at more than $125,000 per year, which is well above the numbers for neighboring cities and for Ohio overall.
3. Great Things to Do
If there is one thing Hudson locals love to do, it is shop. The Hudson Historic District and shopping center along Main Street are clear examples of that. With over 30 shops along the street, you'll find everything from jewelry stores and rug shops to toy stores and a book shop. And not far from there is a new development known as First and Main, where a wide variety of well-known restaurants and stores can be found.
For anyone seeking an outdoor adventure, you'll find plenty of options for that as well. Go fishing or canoeing at Hudson Springs Park. Enjoy hiking, biking, and the scenic views at Cuyahoga National Park. Or take your kids to one of the 21 playgrounds around town for a fun day out.
4. One of the Top Real Estate Markets in Ohio
With a housing market currently on the upswing, the average price of a home in Hudson is currently around $341,900. This dollar amount is significantly higher than the Ohio average for housing costs, matching the substantial income earned by residents in the area. Though it is a small increase of about 3.3% in the past year, it's also expected to rise another 3.4% this year.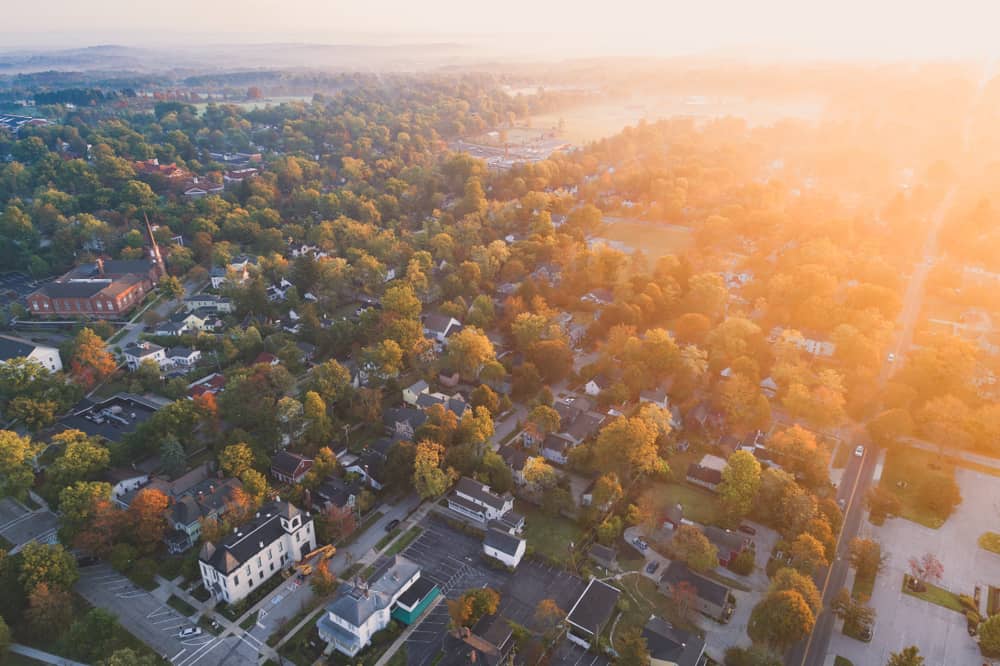 Following a similar trend, rental prices in the city are also going up. Average rent costs range from about $890/per month for a studio apartment to $2,121 for a 3-bedroom location.
5. Safety in Neighborhoods
In a recent study conducted by the FBI, Hudson ranked in the eighth spot of the top 20 safest cities in the state. With a crime rate of less than 0.2%, residents enjoy peace and comfort throughout their everyday lives. And numbers like these make it easy to decide where to live since each community is safe and family-friendly. A handful of the top neighborhoods around town include:
Valley View
Rolling Brook Estate
Ashbrooke
6. Cost of Living Numbers Keep Things Affordable
Beyond the higher than average housing costs mentioned above, Hudson is a comfortably affordable place to live. Healthcare costs in Hudson follow the Ohio trend at about 16% lower than the national average. Utilities are also below that US average by nearly 10%.
Even a trip to the grocery store will set you back less than many other states in the country. You can expect to see savings on things like milk for about $2.40 and other items like bread, rice, and eggs well under $2. Transportation costs in the area basically match the national average, but in a city that is only about 25 square miles, it's not very hard to get around town.
7. Strong Education Programs
We already know Hudson is a great place for families thanks to the low crime rate. But going one step further, the area's school system has made its way toward the top of the rankings for the entire state of Ohio, making it a great place for young students. Hudson High School is currently in the 8th spot when it comes to test scores and overall education.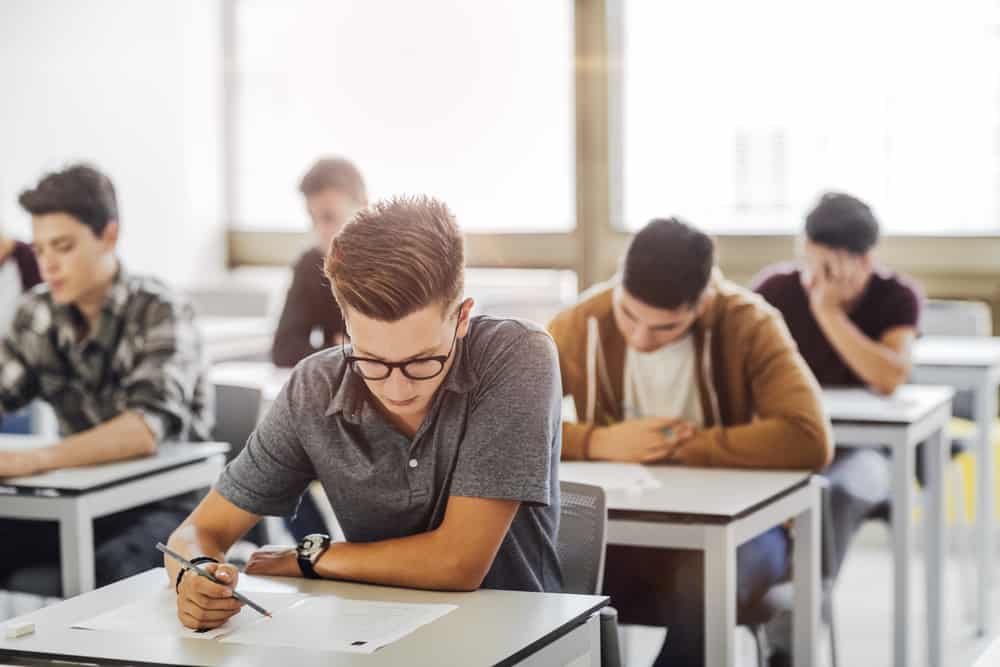 The Hudson Public School System, in general, has been ranked among the top 4% of schools in the United States by Newsweek Magazine. Over 95% of high school graduates in the city make their way to a four-year college.
Though there aren't any colleges in Hudson, locals do have nearby options such as Kent State University less than 10 miles to the southeast.
8. Enjoy Some Good Eats in Hudson
After a long week at the office, it's always nice to make your way to a local eatery for some great food and relaxation. If you're ever in the mood for a good dining experience there are a handful of delicious options to choose from. Grab a yummy Italian dish from Tomato Grill, have some tacos or enchiladas at Luchita's Mexican Restaurant, or head over to Downtown 140 for a variety of comfort food.
9. Cold Winters, But Comfy Summers
The weather in Hudson can vary at certain times of the year, but overall it is a fairly mild climate. Keep in mind, you will see a good amount of snow in the winter since the area typically sees around 50 inches fall during the colder months each year. So make sure you are well prepared with snow boots, a big coat, and a nice thick pair of gloves.
But as things warm up, you'll see clear, sunny days with comfortable temperatures in the low 80s. Locals are able to spend around seven to eight months of their time enjoying the outdoors in little more than a t-shirt and shorts.
Want Help With Your Hudson Move?
Between the strong housing market, safe neighborhoods, and relatively low cost of living, it's no wonder why people enjoy Hudson so much. The area's unique history and fun local activities are simply icing on the cake.
If you're planning on moving to Hudson, we are here to ease your transition. Krupp Moving has been serving the area for over 15 years, assisting thousands of customers with packing, transporting, unpacking, and more.
To get a free quote over the phone, give our Hudson movers a call today at (330) 359-1491 and see how we can make this the most enjoyable move you've ever had.