Columbus Apartment Movers
Apartment Moving Services in Columbus with Krupp Moving
It's no secret that moving from one apartment to another is stressful. Because an apartment is a smaller space than a home, it can be tricky to figure out where to put everything and difficult to get large, cumbersome objects from even one room to another.
Because apartments may feature elevators or steps and are generally smaller spaces, there's a lot of specialization and experience required to make relocating from your apartment a success. Attempting to do it yourself could result in endless headaches and even broken items. Rather than attempt to navigate this daunting process solo, you can work with a renowned relocation service in your area to get you seamlessly from one place to the next.
Krupp Moving services Columbus and all of the Columbus OH Metropolitan Area.
Hiring Professional Columbus Apartment Movers - Top Reasons
So you're moving apartments. If the first thing that goes through your head is a feeling of dread, it is understandable. Apartment moves are especially stressful because of how tight the space is. This amplifies the headache attempting to move without assistance already creates. Luckily, when you select a team of experts, you will get valuable peace of mind. This frees you up to attend to other important things you may have to do surrounding your move.
Apartment moves are also daunting because you may be on a higher floor without an elevator, the space may be tight and narrow, and you may have to walk a long distance from your apartment to the area where a moving truck could park. If you hire specialists to assist, you won't have to navigate the process solo. Instead, you can sit back and relax while the hard work is taken care of.
Highly trained, experienced crew members will help make the relocation process effortless. On the day of the move, the team starts by protecting areas that are often scratched in the process. This includes baseboards, floors, and doorframes, and guarantees your landlord won't reach out after the fact to inquire about any damage.
If you're concerned about packing your apartment (which we understand — it is stressful!), you can work with a crew that can help effectively pack your life into boxes. After the truck is loaded, your items will begin their journey to your new place.
In addition, you may opt to work with a team that can help you reassemble the furniture once it gets to your new home. Apartments are small spaces, so having trained professionals assist with this is invaluable.
You may also notice that your apartment complex has special move out instructions you are required to follow. If this is the case, your crew will ensure that these are top of mind throughout the entire process.
Columbus Apartment Moving Requires Specialized Equipment & Training
Of course, the staff's training is one of the most important considerations to take into mind when you're thinking about moving apartments and selecting the right crew. But have you considered the company's actual equipment? If not, we'll advise you to do so. It is imperative that the team you are working with has access to moving equipment that will streamline the entire process.
Special equipment is required to successfully complete a move, so let's run through some of the most important tools your Columbus apartment moving team will utilize to make the big day a smooth experience.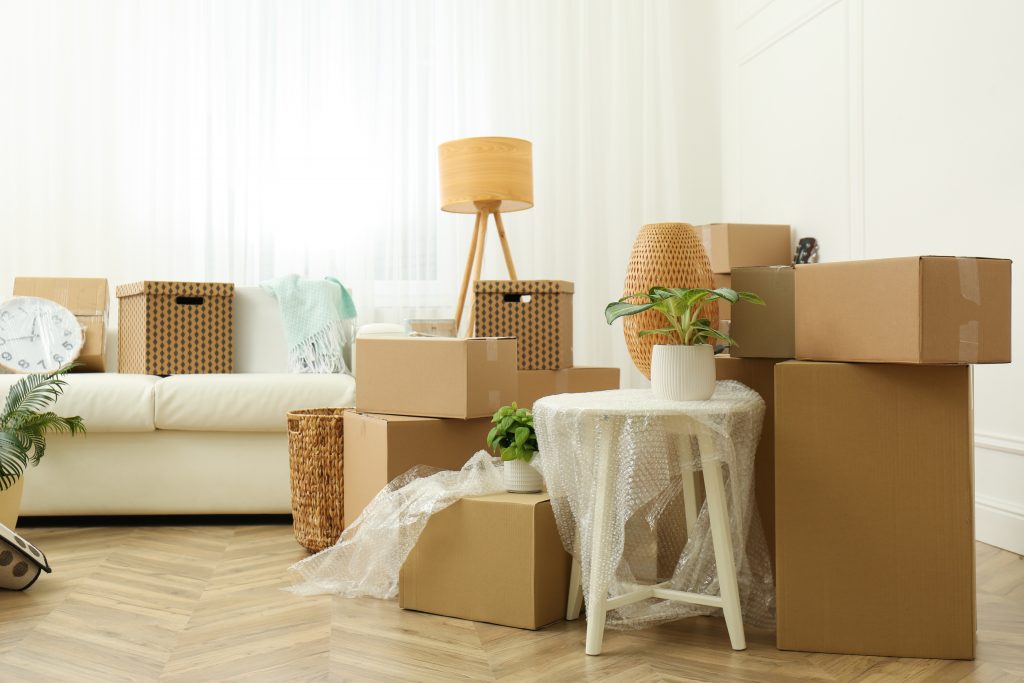 Just as the experience level of your crew determines how successful the move will be, so does the equipment being used to get you from one place to another. However, now we'd like to dive into what special training you should look for when considering apartment moving companies.
First, ask yourself if your movers have completed apartment moves in the past. You can inquire about this when you reach out to a team for a quote. You may also be curious to learn how long the company has been around, and how long on average the movers have been with the company. You can also read reviews to get a better understanding about how the movers collaborate, if they follow special procedures, and what makes the company shine.
How Much Does a Columbus Apartment Move Cost?
Every move is unique, which is why it's impossible to guess how much a Colubus apartment move will cost without learning more about your individual situation. There are several factors that impact how much it will cost to get your belongings from one apartment to another. For instance, the cost of moving a 1 bedroom apartment will likely be different than the cost of moving a 2 bedroom apartment, so it's impossible to generalize.
When you work with a Columbus local moving company, you should get a free quote to gain an understanding of how much you'll pay for your move. This quote will be impacted by what type of apartment move is occurring, the amount of furniture, the distance, special services, specialty items being moved, the access to the space (i.e. if your apartment is on a higher floor), the special preparation needed, how many crew members required, and the size of the unit.
The best Columbus apartment moving company is affordable yet will provide you with valuable peace of mind about relocating.
How to Choose the Best Columbus Apartment Moving Company
So, you've decided you'd like to hire an experienced team to help you move from one apartment to the next. But how do you select the best staff for the job? We're going to tell you how!
While finding the best team to help you through the relocation process seems daunting, it doesn't have to be. First, it's necessary that you do your research on the company itself. Work with a reliable, highly rated company. Ask plenty of questions throughout the process such as the referral rate, the claims rate, and more. Additionally, your Columbus apartment movers should be fully licensed and insured. The longer the company has been in business, the better.
Another foolproof way to gain an understanding of how others felt about their moving experience is by checking out Google reviews. When you read these reviews, you'll gain insight into what previous customers loved — and in some cases, what they didn't. If you see a lot of negative reviews, you know to stay away from that company!
At Krupp Moving, we're proud to be in business for 15 years. We've served more than 12k customers, have a 2% claims rate, and a 96% referral rate.
We understand that relocating to a new apartment is stressful, but it doesn't have to be. We service Columbus and all of the Columbus OH Metropolitan Area. Give Krupp Moving a call today at 614-892-9046 for a free quote on your apartment move.