Canton, Ohio may be a small city with a population of less than 75,000, but this community is home to a thriving and diverse population of people from all ethnicities and religions. Nearly 47% of people in Canton are religious and belong to major faiths and Christian denominations including Catholic, Methodist, Baptist, Presbyterian, Lutheran, and Judaism. No matter what your faith, you'll find a range of welcoming churches in Canton ready to embrace you, including non-denominational churches in Canton that are always open for new members to worship.
First Friends Church in Canton, Ohio is an evangelical congregation led by Pastor Stan Hinshaw. The church has a vision to "Transform the heart, transform the home, and transform the world" with a belief that faith in Christ creates a spiritual transformation. First Friends Church is a family-friendly congregation with a nursery, youth group, and children's Sunday School available every Sunday. The church's Senior Friends Ministry hosts events like pickleball three times a week and senior luncheons.
The church also takes a unique approach to sports through its First Friends Sports with a focus on sports as a way to develop a whole person spiritually, socially, and athletically. First Friends Church offers everything from soccer and T-ball to volleyball, dance, and baseball.
Worship Services:
Sundays @ 9:00 am with musical worship
Sundays @ 10:30 am with separate worship for children
First Friends Church, 5455 Market Ave N, Canton, OH 44714 (330) 966-2800

First Christian Church in Canton, OH is "a church for all people" with a welcoming, fun, and casual atmosphere. The congregation, led by Pastor Ryan Rasmussen, focuses on the church's four core values:
Unconditional love for all people
Taking the next steps toward Jesus together
Making an impact on the local and global community
Acting as spiritual leaders for the family
First Christian Church is one of the oldest churches in Canton, OH with a history going back to 1855 and a congregation that has grown to over 1,400 from just 800 in 2012. Under Pastor Rasmussen's leadership, the church environment is fun with a goal of making service relevant and accepting without judgment.
The church has several ministries focused on children and people with disabilities with community involvement and special events. The First Christian Church in Canton introduces kids to Bible concepts every Sunday with safe, age-appropriate environments that are fun and incorporate creative Bible teaching. There are four kids classes and environments: Grow for birth through preschool, Quest for kindergarten through 3rd grade, Merge for 4th and 5th grade, and Shine for kids with disabilities up to 16.
Worship Services:
Sundays @ 9:30 am and 11 am
First Christian Church, 6900 Market Ave N, Canton, OH 44721 (330) 456-2600
The North Canton Church of Christ is part of the Churches of Christ movement of autonomous Christian congregations that use examples of the early church in the New Testament. Sundays at North Canton Church of Christ are casual and include a combination of singing, communion, prayer, and a Bible message.
North Canton CoC offers many ways to connect with the church, the Lord, and the community. Their children's ministry covers children from birth through 5th grade to help kids know God better. Junior Worship is offered on Sundays and Wednesday nights. The Hearts of Gold senior ministry of the congregation is meant for members 50 and up with activities and ministries like Needles & Knots and Vacation Bible School. North Canton CoC also participates in mission work around the world.
Worship Services:
Sundays @ 9:00 am for traditional service
Sundays @ 10:00 am for bible classes
Sundays @ 11:00 am for contemporary service
Sundays @ 5 pm for small groups
North Canton Church of Christ, 1301 E Maple St, North Canton, OH 44720 (330) 499-4303
As one of the largest Baptist churches in Canton, Canton Baptist Temple invites residents of the area to come and grow with the church and the Lord. Canton Baptist Temple has a history dating to 1937 when families gathered in a field in Ringers Park to meet and establish what was then the Canton Baptist Tabernacle. Since then, the church has gone through many expansions and now supports over 170 projects and missionaries including Camp CHOF where over 600 children attend summer camp.
To provide children with a loving, safe space to develop and learn about God, Canton Baptist Temple offers Sunday School with a unique approach to meet the developmental needs of every child. Sunday School is offered for infants through 5th grade. During middle school, students can participate in the student ministries to study topics such as integrity, growing with Jesus, and understanding other religions.
Worship Services:
Saturday adult Bible fellowship @ 6 pm
Wednesday service @ 7 pm
Sunday school and adult Bible fellowship @ 9 am
Sunday worship @ 10:15 am
Sunday night Bible study @ 5 pm
Canton Baptist Temple, 515 Whipple Ave NW, Canton, OH 44708 (330) 477-6267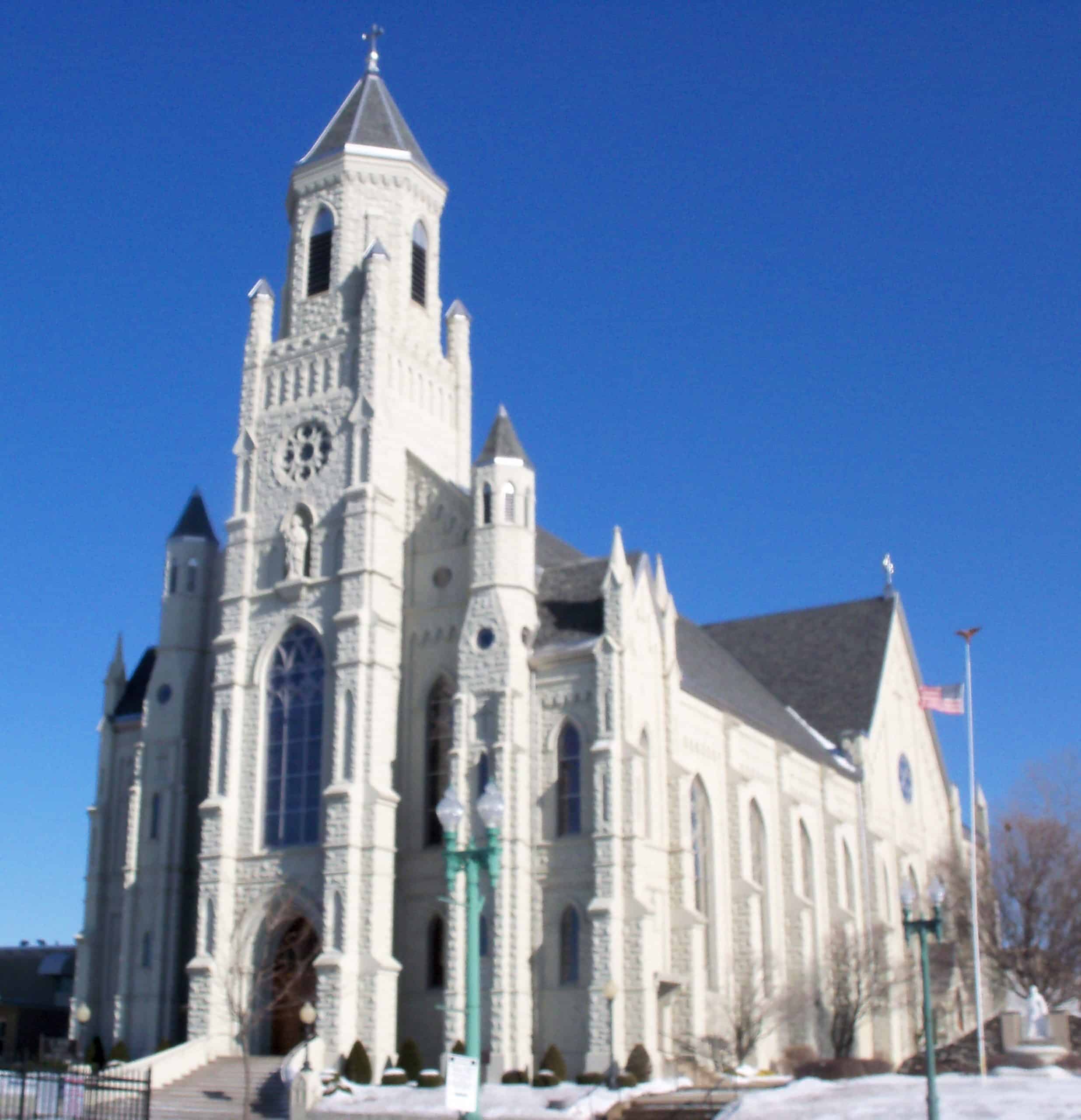 St. Peter's Catholic Church is one of most beautiful Catholic churches in Canton. A stunning example of Gothic Revival architecture, the church has been on the National Register since 1990. Founded in 1845 to serve the original German immigrants of the area, the congregation has grown in size and diversity. As one of the largest Canton Catholic churches, St. Peter's works to bring the Gospel to everyone and invites Canton residents to join for a Celebration of the Liturgy.
Congregants can turn to St. Peter School in Downtown Canton with 128 students in kindergarten through 5th grade. St. Peter Catholic School offers affordable Catholic schooling to help children achieve academic excellence and a deeper understanding of God's teachings.
Mass times:
Tuesdays & Thursdays @ the Basilica of St John at 9 am
Wednesdays @ St Peter Church at 8 am
Fridays @ St Peter Church at 8 am
Saturdays @ 4 pm at St Peter Church
Sunday @ 8 am, 9:30 am, and 11 am
St. Peter's Catholic Church, 726 Cleveland Ave. NW, Canton, OH 44702 (330) 453-8493
Founded in 1902, St. Joseph's is one of the largest Canton churches with a congregation of more than 1,200 families.St. Joseph's serves the needs of the Roman Catholic in Canton with liturgical and music ministries. Mass at St. Joseph's is led by the Cantors, the Handbell Choir, and the Raphael Choir which began in 1937.
Mass times:
Saturday vigil @ 4:30 pm
Sundays @ 8 am & 10:30 am
Weekdays @ 8 am
St. Joseph's Church, 2427 W. Tuscarawas Street, Canton, OH 44708 (330) 453-2526

St. Mark's is one of the largest Episcopal churches in Canton and a parish of the Episcopal Church in the Diocese of Ohio. St. Mark's welcomes everyone with a belief in a liberating and loving God. The church follows Christ's teachings and strives for a legacy of inclusion in which laypeople and clergy, men and women, can serve as leaders in all levels of the church regardless of orientation or sexual identity.
St. Mark's has a history of using music in the Episcopal tradition with choirmaster and organist Dr. W. Robert Morrison. The church also offers St. Mark's Sunday School for preschool through 5th grade during the 10 am service where kids can enjoy a kid-friendly chapel experience and learn about God in a fun, caring, and enthusiastic environment. Every month, kids can participate in Hands-On-Worship with service opportunities and arts projects.
Worship Services:
Holy Eucharist Sundays @ 8:00 am and 10 am with music
St. Mark's Episcopal Church, 515 48th St. NW, Canton, OH 44709 (330) 499-2662

NewPointe Community Church Canton is one of the only mega churches in Canton with one church spread across six campuses with a mission of leading people to realize their potential in Jesus. Sunday attendance across its six locations averages more than 4,500 people.
NewPointe Community Church is one of the best non-denominational churches in Canton if you're looking for a different church experience. All campuses can play video recordings of Lead Pastor Dwight Mason to visit any campus as needed while campus pastors can focus on each campus's direction, vision, and discipleship. Services begin with an introduction, songs, and a message for Pastor Dwight on a big screen with storytelling and commentary. The goal of the church is creating a church experience that even unchurched people will love.
The church also offers many ways for families and adults to connect like the Discover Track every Sunday morning to provide clarity and direction and the Care Network programs that include DivorceCare, GriefShare, and Parenting groups.
Worship Services:
Sundays @ 9 am and 11 am at the Wooster, Millersburg, Coshocton, Canton, and Dover campuses
Sundays @ 10 am at the Cambridge campus
NewPointe Community Church, 3950 State Route 39 NW, Dover, OH 44622 (330) 602-5600
Canton Churches Map
No matter your faith, Canton churches come in all denominations, faiths, and sizes so you're sure to find the right congregation for your family. From mega churches to small, historic churches in Canton, don't be afraid to explore the many ways to express your faith in your new community.
As you explore churches in Canton, Ohio and begin narrowing down your options, the next step is planning other aspects of your relocation. The caring Canton movers at Krupp Moving are standing by to help you through every stage of your big move with tailored services for your needs. Call our movers today at 330-359-1491 to get started with a free moving quote.