Canton, the county seat of Ohio's Stark County, offers the perfect combination of affordable living and nearby city amenities. Canton is just 23 miles from Akron and two hours away from Pittsburgh and Columbus yet it offers one of the most affordable housing markets in the country. If you're thinking about relocating to Canton, Ohio, you're probably asking yourself: What does it cost to live in Canton? What is the average cost of living in Canton and can I afford it on my salary?
Here's how the Canton cost of living compares to the national average in important areas like housing, taxes, and utilities to help you decide if settling in Canton is the right move for your family.
Canton Cost of Living Index
How much does it cost to live in Canton? Is Canton expensive or will you be able to live close to work and enjoy a high quality of life?
One of the best ways to assess the Canton cost of living is by looking at the Canton cost of living index compared to other cities. The Canton cost of living index is 93.9%. That means the city is 6.1% cheaper than the national average!
That doesn't tell the entire story. The cost of groceries is right at the national average but almost every other metric is more affordable in Canton. The cost of housing in Canton is 14% below the national average while transportation is 7% lower. You'll also pay slightly less for health care and miscellaneous goods in Canton compared to the national average.
The consumer price index (CPI) is another useful tool for a cost of living comparison. This index measures how the prices for retail goods changes and it helps measure inflation. The consumer price index for the Cleveland-Akron area, including Canton, increased 1.6% over the last year, affecting local prices. Food increased 0.8% and energy costs rose 1.6% but prices dropped for housing, vehicles, and clothing.
Cost of Items in Canton, OH
The cost of living in Canton is among the lowest in the United States. You'll see this in everything from housing prices to the cost of consumer goods in the city. The Midwest already enjoys low energy costs but the average electrical bill in Canton is just $105. The average cost of groceries in Canton is also below the national average to help you stretch your money farther.
To help you understand what to expect with the Canton, OH cost of living, here are common prices you'll pay.
Steak (ribeye, 1 lb): $10.83
Milk (whole, 1/2 gallon): $1.98
Eggs (1 dozen, grade A): $1.35
Potatoes (5 lb bag): $2.82
Bread (wheat, 1 loaf): $3.23
Beer (Heineken's 6 pack): $8.97
Movie ticket (1st run): $10.28
McDonald's burger (1/4 Pounder): $3.53
Average cell phone bill: $174.41
Average cost of gasoline (per gallon): $2.30
Average cost of utilities: $159.35
Canton Real Estate Market
One of the biggest factors influencing the cost of living in Canton is the cost of housing. Both renters and home buyers enjoy affordable prices in the Canton real estate market that's been somewhat competitive.
Like many markets in Ohio, Canton is watching rent prices remain flat while home prices continue to rise. Despite this, Stark County remains one of the most affordable housing markets in the country!
The average price of a home in Canton is just $70,200 excluding homes that fall out of the city limits. Even when these higher-priced and often new homes on the outskirts are included, Canton house prices are still just $115,000 on average. You can expect to pay just $82 per square foot.
The cost of housing in Canton, Ohio also depends on where you decide to live. Canton is home to several neighborhoods that vary a great deal in terms of price. This does make it easy to find a home that will fit your budget and needs, whether you want a grand 5-bedroom home in the $200s or a starter home priced under $60k.
The Ridgewood Historic District is another good choice. This century-old community is known for its brick streets, lamp posts, and unique features. It's one of the most affluent areas of the city; Canton average home prices in Ridgewood range from $100k to $400k.
Homes in nearby Colonial Heights range from $65k to more than $300k; homes on the higher end of this price range include large, historic homes.
Canton Rental Market – Average Rent in Canton, OH
Most people in Canton are renters with a homeownership rate of just 48%, far below the national average of 64%. Thanks to the low cost of living in Canton, OH and very affordable home prices, Canton rent is extremely affordable!
The average apartment rent in Canton is just $529. The average rent for a 2-bedroom apartment is $593. It's hard to beat this anywhere else in the United States with the national average for a 2-bedroom apartment at $1,255.
Canton usually has a vacancy rate of around 2%. Despite this low vacancy rate, you shouldn't have trouble finding a rental property you can afford. Many new rental properties have been built in the last decade with a focus on affordable senior housing.
Rents in Canton will vary depending on where you choose to live. Several new complexes have been completed in downtown Canton and have higher rents starting at $800. North Canton is a bit more affordable than downtown.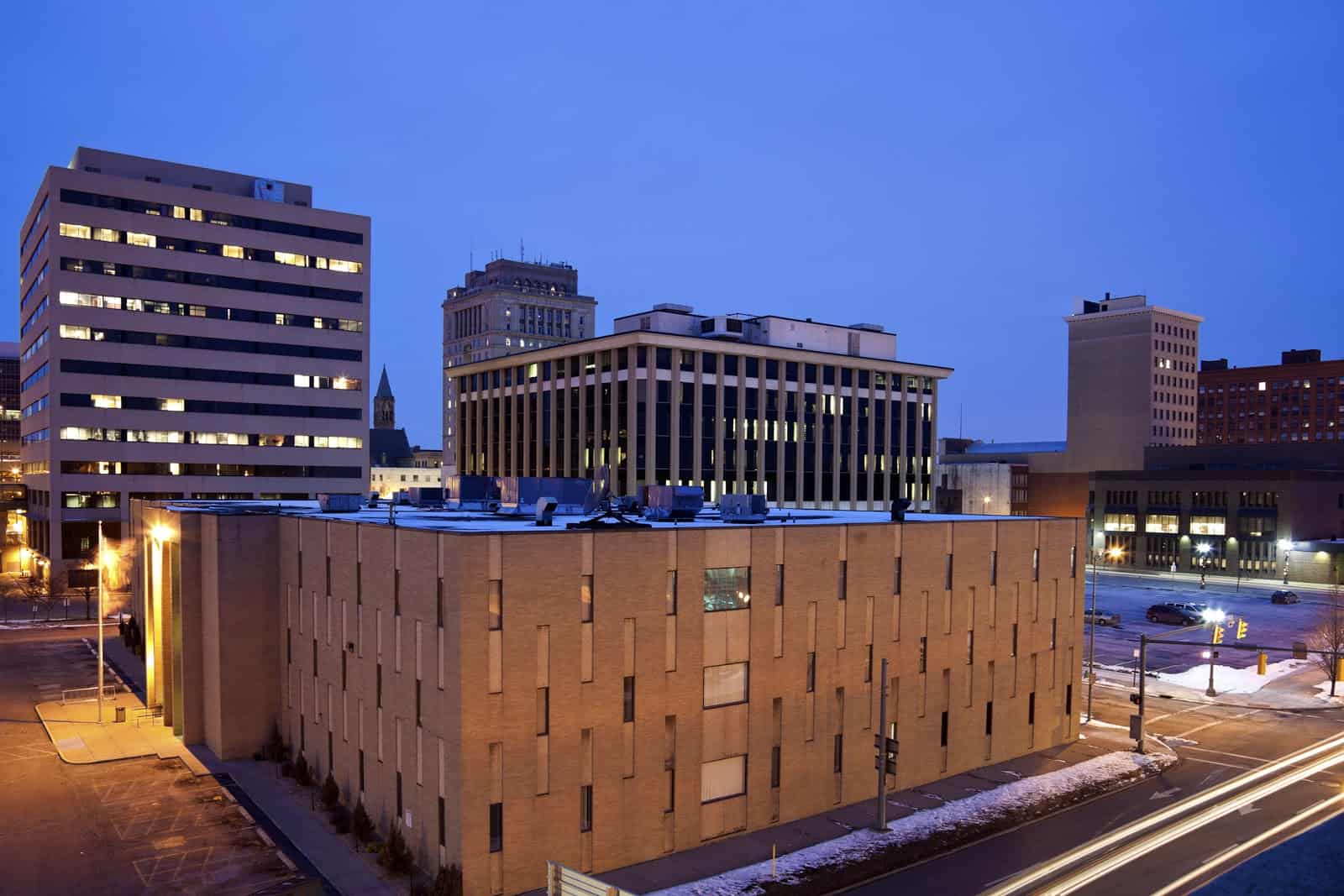 One of the newest additions to the Canton rental market is Hercules, located in a revitalized downtown landmark building. This luxury apartment building is a good example of what you can get with a larger budget in the city. Canton rent prices at Hercules range from $945 to more than $3,700 with homes ranging from 650 to 2,500 square feet of space but high-end amenities like a dog park and washing station, 12-foot ceilings, and large kitchen islands. This price range also includes furnished apartments.
Average Household Income & Salary in Canton
How much do you need to make to live in Canton? An important way to measure the cost of living in Canton is to learn what you could be making with your work experience, education, or career title and see the average income in Canton.
The average salary in Canton, Ohio is $54,000, according to Payscale, with an average hourly wage of $15.78. The median household income in Canton is $51,200.
Here's the average income based on several common job titles:
Certified Pharmacy Technician (CPHT): $15/hour
Registered Nurse (RN): $28/hour
Customer Service Representative: $14/hour
Office manager: $42k/year
Human Resources Manager: $56k/year
Operations Manager: $58k/year
The average salary in Canton varies widely based on profession and occupational area. Canton's economy is mostly industrial but agriculture and healthcare are also big players.
Examples of typical salaries in common occupational areas are:
Management: $98k/year
Business and financial operations: $64.5k/year
Healthcare support: $27k/ear
Protective service: $41k/year
Food preparation and serving: $20k/year
Office and administrative support: $35k/year
Production: $36.5k/year
Top employers in Canton include:
TimkenSteel Corporation
Timken Company
Belden Brick Company
Medline Industries
Shearer's Foods
Aultman Hospital
Mercy Medical Center
Canton City Schools
Stark County
Sales, Income & Property Taxes in Canton, OH
Is Canton expensive? While home prices and average salary are important, remember to consider tax rates! Here's how much you can expect to pay for property, sales, and income tax living in Stark County, Ohio.
State of Ohio Income Tax Rate
The Ohio income tax rate ranges from 0% (on the first $21,750 in taxable income) to 4.797% (on income of more than $217,400). There are six income tax brackets in Ohio.
Canton Sales Tax Rate
The combined Canton, OH sales tax rate is 6.5%. This includes city, county, and state taxes. The 6.5% sales tax in Canton includes the Ohio tax rate of 5.75%. Ohio is on the higher end of the range in terms of sales tax.
Canton Property Tax Rate
Unfortunately, Stark County has one of the highest property tax rates in the country. The average Canton property tax is 1.21% of the home's assessed fair market value. That makes the average tax bill $857 with a median home value of $70,000 in Canton.
As you can see, Canton is an incredibly affordable city to make your home and it's probably much more affordable than where you're living now. With low costs across the board yet close proximity to several big cities, you're sure to fall in love with life in Canton, Ohio. Planning to move to the Canton area? Count on the reliable Canton movers at Krupp Moving & Storage to make your relocation a breeze!