The incredible area known as Sand Run Metro Park is often placed among the top things to do in Akron, OH. It is a large park with wetlands that is known for its growing population of salamanders and other unique wildlife.
Visitors to the park enjoy everything from winter activities in the snow to fun outdoor events during the warmer months of the year. With many things to see and places to go, it's a popular place for Akron locals to visit.
Let's dive into interesting facts about this beautiful area and the top reasons to visit Sand Run Metro Park.
History
The land covering this area is full of historic stories and an amazing background. It was once the home of local Mingo Indians. It once sat along the western border of the United States. And it even played a part in the War of 1812.
Since then, it has welcomed millions of visitors over the years.
Officially opened as Sand Run Metro Park in 1929, it's become one of the most popular attractions in Akron. Many of the structures around the park were built immediately following its opening. It also houses numerous administrative office structures for the Summit Metro Parks district organization.
The park has long remained home to various wildlife species, gorgeous plant life, and some truly unique weather at all times of the year. It is an exciting place for nature lovers to visit, camp, or spend time with family and friends.
How to Get to Sand Run Metro Park
Surrounded by a handful of nearby Ohio cities, there are multiple ways to access the Sand Run Metro Park area. Get directions below based on which part of town you're coming from.
If you're traveling south from the city of Akron, you'll want to take Market Street to Merriman Road and head north. You'll turn left onto Mayfair Road and turn right to go north on Portage Path. This will take you to Sand Run Parkway, which leads to any part of the park you want to reach.
For those traveling from the Cuyahoga Falls area or other areas to the east, you can simply drive west along Portage Trail to Portage Path.
And if you are coming from a city to the west such as Fairlawn, go north on Miller Road to Sand Run Parkway and follow it straight to the center of the park.
Access from the north can be found by taking Riverview Road south until you reach Portage Path. Turn right and then head in the direction of the specific area of the park you want to see.
Before visiting Sand Run Metro Park, it is a good idea to take a look at a map of the park to determine what part you'd like to visit. You'll find a wide variety of exciting things to do no matter where you decide to go first.
Address:
Sand Run Metro Park, 1300 Sand Run Road, Akron, OH 44313
Best Things to Do at Sand Run Metro Park
Spanning a large area of 998 acres, you're sure to find plenty of great activities in Sand Run Metro Park. Whether you want a relaxing day outside or prefer to get some exercise with a run along one of the trails, this great area has fun amenities for everyone.
1. Stay in One of the Lodges
One of the most popular things to do at Sand Run Metro Park is to rent one of the two lodges found in the area. These cozy shelters are unique and rustic providing great places to stay for a night or two within the park.
The first option is the Shady Hollow Lodge, which offers kitchen facilities, a fireplace, a charcoal girl, and a 70-inch HD television as well as some of the best views of Sand Run. With a capacity of 40 people, residents of Summit County can expect to pay $150 per night on weekdays and $215 per night on weekends and holidays.
The second lodge is known as Mingo Lodge and is surrounded by trees and beautiful sights. Located right next to Mingo Trail, you can go for a nature walk passing Seneca Pond and Echo Pond, while seeing wildlife like woodpeckers, owls, possums, white-tailed deer, as well as little brown bats at nighttime. Holding as many as 64 people, Summit County residents will pay $125 per night on weekdays and $155 per night on weekends and holidays.
2. Old Portage Area
As the starting place of the 6.1-mile Parkway Jogging Trail, visitors to the Old Portage Area can follow this moderate difficulty path to the western edge of Sand Run Metro Park next to Revere Road. This area also features an open-air shelter and picnic tables for a nice picnic on a clear day.
3. Lone Spruce Area
One of the simpler and quieter spaces around Sand Run Metro Park, the Lone Spruce Area is also a great place for a picnic. It is also one of the top spots where Akron locals like to bring their pets for exercise and to enjoy the outdoors.
4. North Hawkins Area
Some of the best things to do in Sand Run Metro Park can be found in the North Hawkins area. Visitors will find wide-open soccer fields, picnic tables, and plenty of places for sledding in the snow during the wintertime. It is also the location of the Dogwood Trail, a high-intensity 2-mile hike that will bring you back to where you started.
5. Big Bend Area
More of the top activities around Sand Run Metro Park are located at the Big Bend area on the eastern edge of the park. It is the starting place of the Towpath Trail, which travels for 41 miles to the northwest along the Ohio & Erie Canal. If you decide to spend time around this area, you'll be able to find spaces for overnight camping and can even go ice skating during the winter.
View this post on Instagram
When to Visit Sand Run Metro Park
The time of year you visit Sand Run Metro Park will play a major role in the experience you'll have while you're there. During the summer and spring, you'll typically have partly cloudy weather and temperatures between the mid-60s and low 80s. They'll be warm and dry, giving you plenty of chances for camping, hiking, and picnics with clear skies.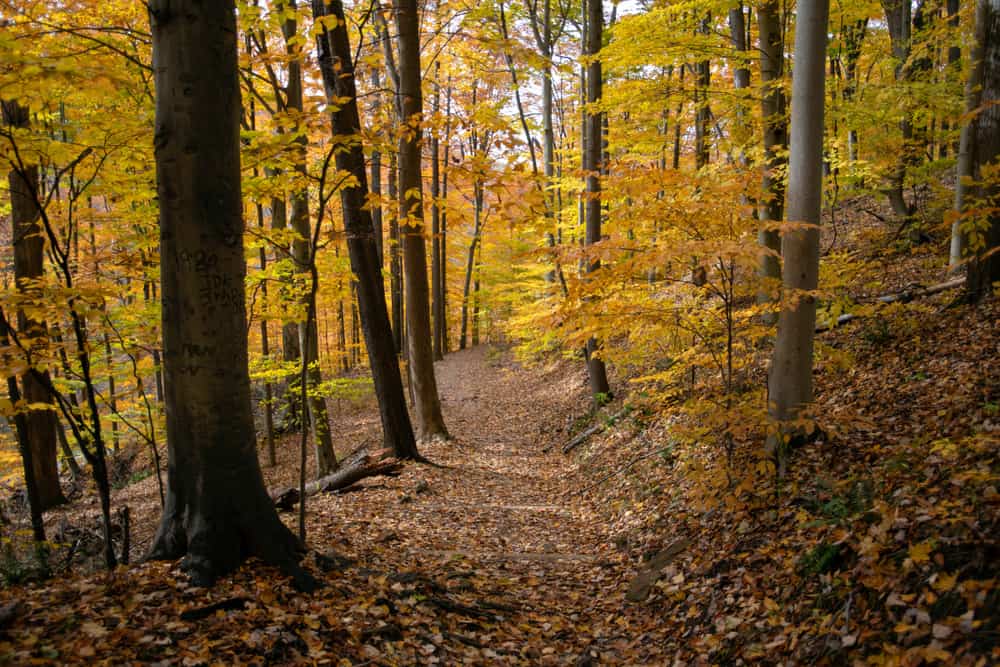 On the other hand, winters offer a completely different experience that brings as much as 40 inches of snow annually and temps from the low 20s to the mid-30s. But that doesn't make it any less of a fun place to visit in Akron. During this part of the year, visitors to Sand Run Metro Park get opportunities for sledding, ice skating, ice fishing, and much more.
Sand Run Metro Park Hours:
Open daily from 6 am to 11 pm
Don't Miss Out on this Exciting Akron Attraction!
Visiting Sand Run Metro Park is one of the most popular things to do in Akron. Offering fun activities across more than 1.5 square miles of nature, find places for picnics, hiking, camping, and so much more.
Are you learning about Sand Run Metro because you're relocating to Akron or another nearby city? Get help from our professional Akron movers so you can quickly enjoy the benefits the area provides its local residents. Call Krupp Moving today at (330) 359-1491 to get more information or fill out the Request a Quote form on this page for a free moving estimate!