The area that is now called Bath Township has been around for more than 200 years. It is a beautiful and lush bedroom community offering safe communities and access to fun local activities.
Bordered by Fairlawn, Granger, Everett, and Akron, this affluent suburb of Akron has stood as a great place to live for many years. If you're thinking about making the switch to the quiet community of Bath Township, this guide is the perfect place to get started.
Bath Township is known for being one of the nine townships of Summit County in Ohio and is occasionally mistaken for two other townships of the same name in both Allen and Greene Counties.
To learn even more interesting things about Bath Township, make sure you check out the complete guide below.
1. People of Bath Township – Population & Demographics
Even though the area has seen minimal growth over the years, people living in Bath Township tend to stay for a long time as is clear by the city's median age of 45 years old. Since the town was originally surveyed back in 1808, the Bath Township population has grown to 9,719 people.
A review of the most recent Bath Township demographics shows the area is about 95% Caucasian, 2% African American, and 2% Asian.
2. Best Things to Do in Bath Township
Even a small town can have exciting attractions and fun places to visit. One of the most fun things to do in Bath Township is visit the Allardale County Park, where you'll find hiking trails, shelters for picnics, and beautiful views. Along the inner loop paved trail, there are fun play features where kids can do silly things such as "hop like a rabbit" across tree stumps or "perch like a bird" along ropes.
View this profile on Instagram
Allardale, 401 Remsen Rd, Medina, OH 44256
For some truly breathtaking sightseeing, make sure you also visit the 404-acre Bath Nature Preserve. From the trails and bike paths to fishing at the Bath Pond, it's sure to become one of your favorite points of interest. As one of the top activities in Bath Township, you can go to see local wildlife or simply enjoy nature.
View this post on Instagram
Bath Nature Preserve, 4160 Ira Rd, Akron, OH 44333
3. Top Bath Township Restaurants
Curious about the best places to eat in Bath Township? Trattoria Vaccaro is a modern Italian restaurant with classes plates like fresh pasta, pizza, seafood, and much more. Make sure also try a drink from this top-rated Bath Township restaurant's wine menu and finish your meal off with a scrumptious dessert.
View this post on Instagram
Trattoria Vaccaro, 1000 Ghent Rd, Akron, OH 44333
For a classy and upscale dining experience, put on something nice and head over to Lanning's Restaurant. Their menu is loaded with fantastic options ranging from steaks and soups to salmon, oysters, shrimp, and much more. Pair your dish with one of the many wine choices they offer to complete the meal.
View this post on Instagram
Lanning's Restaurant, 826 N Cleveland Massillon Rd, Akron, OH 44333
4. Bath Township, OR Cost of Living
Considering its convenient location and many benefits, people moving to this area will greatly enjoy the affordable cost of living in Bath Township. Residents pay less for expenses like healthcare, home utilities, and local transportation such as gas and car insurance. One thing to keep in mind is that the Bath Township housing market is about 6% higher than the national average and substantially higher than the Ohio average.
If you look through Bath Township, OR homes for sale, you're certain to find a handful of options for a variety of budgets and lifestyles. The average price of a home in Bath Township is currently about $306,200, a number that hasn't varied much over the past year or so.
The homeownership rate in Summit County, OH is 66.6%, leaving about one-third of the population renting their homes or apartment spaces. The average price of rent in Bath Township varies based on the size of the location as well as its placement in town.
5. Neighborhoods of Bath Township
Among the top 50 safest cities in Ohio, Bath Township communities offer a sense of security and comfort to the people living here. Spanning about 23 square miles, the city is fairly spread out, giving many residents their own personal space.
A trip through town would lead you past some of the top Bath Township neighborhoods including:
Bath Center

Richfield Heights
Bath Township is an Akron suburb placed along the northwestern border of Summit County and covers the 44210 zip code. The Bath Township area code for a new phone number is 330.
The most convenient places for shopping in Bath Township are the West Market Plaza Shopping Center, Walmart, Dollar Tree, Acme Fresh Market, Circle K, as well as Gasoline Alley.
6. Best Schools in Bath Township
School-age students make up nearly 20% of the population in Bath Township. While the area doesn't have its own district, it is part of both the Copley-Fairlawn City School District as well as the Revere Local School District. Some children living in Bath Township may possibly attend a school in a bordering city.
The main Bath Township schools are:
Bath Elementary School

Fort Island Primary School

Revere Middle School

Copley High School

Revere High School
And with a single secondary school in Bath Township, Bryant & Stratton College offers great degree programs in business, design, healthcare, technology, and more. Individuals may also attend other colleges in Akron nearby such as the University of Akron and local community colleges.
7. Bath Township Job Opportunities
Apart from the shopping center on the southern edge of town, the majority of Bath Township is residential developments. And while you won't find many jobs in the area, many locals make the simple commute from Bath Township, OH to Akron about 15 miles away.
People with jobs in Bath Township and neighboring cities boast a median household income of $104,242, which is a strong amount when considering the low cost of living this area offers.
The largest employers near Bath Township include:
Goodyear Tire

Local Schools

Summa Health
8. Weather in Bath Township
Home to some of the greatest outdoor activities around, Bath Township offers locals easy access to great places like Cuyahoga Valley National Park, Bath Nature Preserve, Bicentennial Park, and the Bath Baseball Park. The varying Bath Township climate provides a different experience at any of these locations depending on the time of year.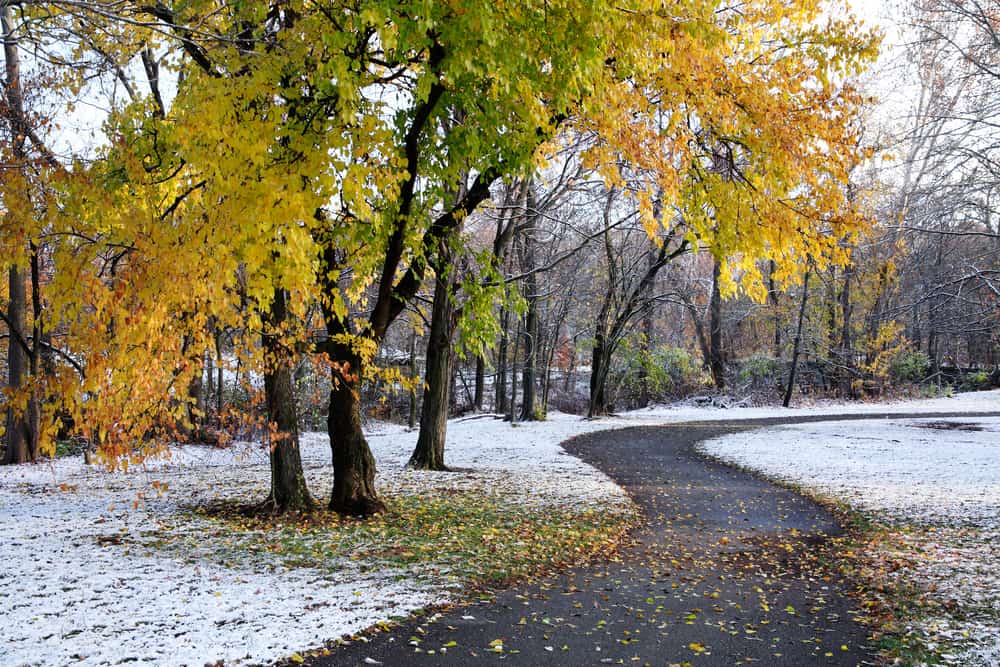 Bath Township weather brings freezing cold winters averaging temperatures between the low 20s and mid-30s, paired with nearly 42 inches of snow per year. But summers offer a refreshing break from the cold with temps ranging between the low 60s and low 80s.
Tips for Moving to Bath Township
If you relocate to Bath Township, it's likely you'll stick around for a while.

On the outskirts of Akron, you'll find a wide range of fun things to do here.

Expect a low cost of living overall, but make sure you budget for housing prices.

Neighborhoods in Bath Township are safe and offer good school systems.

Plan on freezing winters followed by warm, mildly humid summers.
Anyone migrating to Bath Township can greatly benefit from the help of a qualified team of local Bath Township movers. The crew at Krupp Moving would love to help with your transition to this cozy and charming town!
Give us a call today at (330) 359-1491 or complete the Request a Quote form for a free moving estimate!