As a unique destination of the Ohio Agricultural Research and Development Center in Wooster, Ohio, Secrest Arboretum hosts up to 10,000 visitors every year. Whether you are looking for free things to do in the area or want a family activity for sunny weather, this arboretum is a fun, educational outing for people of all ages.
Spanning over 110 acres, Secrest Arboretum is part landscape garden and part outdoor laboratory. Altogether, there are more than 2,500 varieties of herbaceous and woody plants scattered among themed gardens that offer unique colors and textures.
History of Secrest Arboretum
Started more than a century ago in 1909, Secrest Arboretum first began after Edmund Secrest designed the concept and brought it to life. It has long been the home of the primary research arboretum at Ohio State University. By 2005, the arboretum was home to multiple Ohio champion trees like the Nordmann Fir, Giant Dogwood, Japanese Larch, and Nikko Fir.
Within this beautiful area, guests can visit the Fortress at the Hogsback, the pavilion, and other popular attractions. Beyond fun activities like the Secrest Arboretum slide, kids can also check out wildlife like tortoises and giant frogs.
The modern arboretum includes a vast amount of stunning features like the 2,000 different plant species, while the Garden of Roses of Legend and Romance includes more than 500 rose species. Visitors can use the Secrest Arboretum map to find their way around and make their way to each part of the large garden.
Best Things to Do at Secrest Arboretum
If you are looking for fun things to do in Wooster, OH, Secrest Arboretum is an excellent place to visit for the day. Whether you want to learn about unique plant species or use it as a wedding venue, there are many things you can do at this massive botanical garden.
1. Rent the Outdoor Amphitheater
Educational classes and events are often held at the Secrest outdoor amphitheater. Known as the John Streeter Garden Amphitheater, it is open year-round for event rentals as well as private use. If the amphitheater isn't available on the day you want, community visitors and corporate groups can also rent the Taylor Pavilion and the Jack & Deb Miller Pavilion nearby.
2. Go Through the Secrest Maze
If you have admired British hedges or were intrigued by the massive maze in the Triwizard Tournament of Harry Potter and the Goblet of Fire, you finally get your chance to explore a natural, plant-made maze yourself. Created from Thuja occidentalis, the Arborvitae Maze is a fun event for the entire family. For the more competitive households, try timing how long it takes each person to make it through the maze.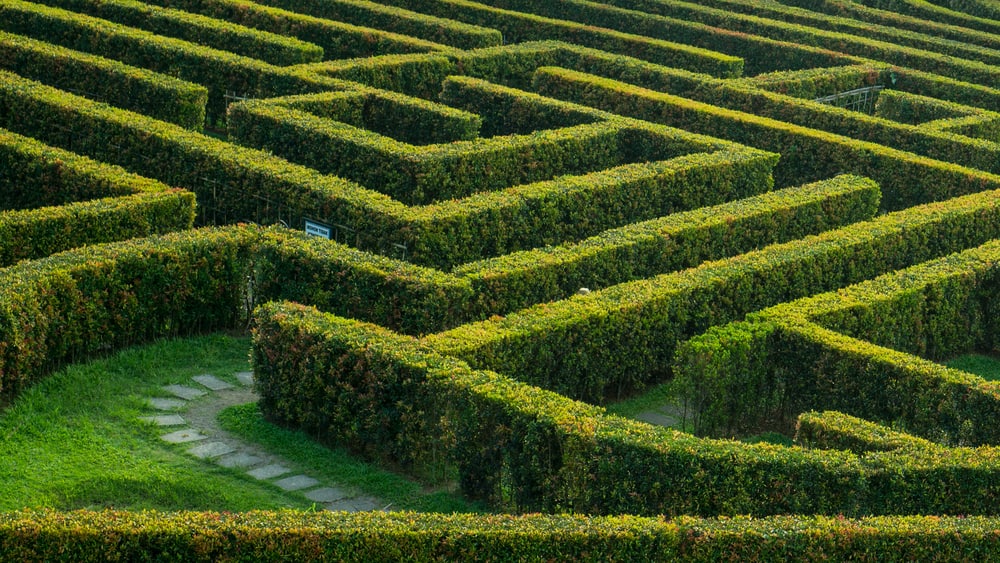 Most English-style mazes like this one are usually made out of boxwood, which is the species gardeners use for creating living statues. While the Secrest maze is made of arborvitae, there is also a boxwood collection right across Green Drive from the maze.
3. Secrest Arboretum Events
You can check out a wide range of events at Secrest Arboretum held throughout the year. In addition to attending the events hosted by Secrest, you can also rent out areas of the garden and create your own events. Many of the features can be reserved for a price if you want to have your wedding, birthday party, retirement party, or other special occasions at the location.
One of the most popular Secrest Arboretum events is known as Plants from All Over. This holiday event features tales from around the world. Each story is linked to the arboretum's plants, and visitors can even enjoy a light meal provided during the afternoon program.
With such a beautiful campus, it is unsurprising to see many other events like tree walks and guided bird walks. Bird watching specials at the location are held by members of the Greater Mohican Audubon Society. During the guided walk, you can learn different bird calls, spot birds and listen to information about their habitats.
Meanwhile, the tree walk is a wonderful outing if you want to learn all about plants around the gardens from how long they take to grow and what they're called to small pests that threaten their existence. In addition, you can also learn tips about planting your own trees.
Other events at Secrest Arboretum worth a look include things like watercolor painting classes and an outdoor community concert series. For an interesting insight into the facility's features, make sure you also check out the Hidden Gems of Secrest Tour. This tour involves a deep look at the far corners and hidden gems many visitors don't get to see on their own.
4. Garden of Roses of Legend and Romance
Visiting Secrest's rose garden is a truly unforgettable experience. This amazing garden is placed near the Seaman Orientation Plaza at the front of the grounds and will surely take your breath away.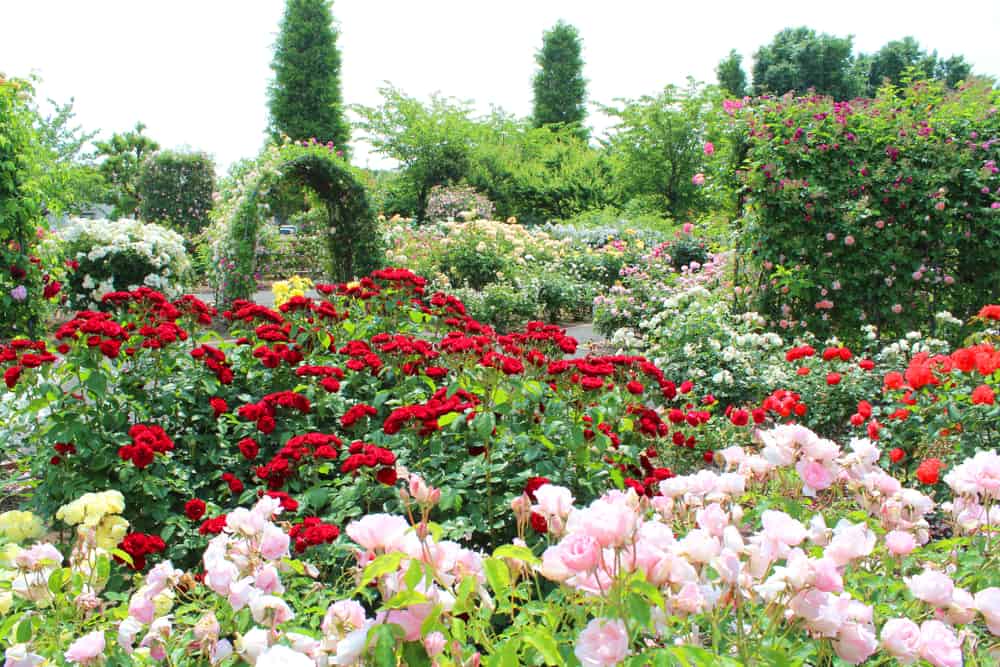 Within the Garden of Roses of Legend and Romance, you can find more than 500 species of roses grown in an English rose garden design.
5. Other Themed Gardens
With over 2,500 varieties of plants, Secrest Arboretum is a wonderland of different conifers, hollies, and more. If you're a lover of plantlife, touring the themed gardens is one of the best things to do at Secrest Arboretum.
While those who love birds should visit Katie's Songbird Garden, Gayle's Butterfly, or Hummingbird Garden. You can also check out other popular gardens such as:
Conifer Isle
Ohio Native Garden
Million Flower Pathway
Nancy's Tranquil Haven
Ollie's Hollies
Kristen's Memorial Terrace
Skip and Letty's Water Garden
Throughout the year, you can access sales on plants from the different themed gardens that you can take home. Other than roses and flowers, you can also purchase hollies. The popular winterberry holly arrangements typically go on sale right around Thanksgiving, but they sell out quickly.
6. Secrest Arboretum Wedding Venue
Whether you are dreaming of getting married amid snow flurries, under a clear spring sky, or in the warm summer sunshine, a Secrest Arboretum wedding is an excellent option for couples who are ready to tie the knot. There are so many different areas to host a wedding, making this location perfect for an outdoor wedding that you and your guests will never forget. For a more traditional look, you could get married with either the amphitheater or the rose garden as a backdrop.
The rates vary based on the time of year and the number of attendees, so it is important to call ahead to plan out the best reservation spot. Because this facility is a popular location for weddings and events, reservations must be made well in advance if you want to be certain of having the space available on the right day.
7. The Secrest Arboretum Slide
Whether you want to bring along the kids or simply satisfy your inner child, the slide at Secrest Arboretum is the perfect place to go. This slide is built into an embankment with a natural rock staircase placed alongside it. While the slide is a bit slippery and wet on rainy days, it is still worth the trip to try out.
View this post on Instagram
Best of all, the Secrest Arboretum slide is available for kids of all ages. After a few rides down, make sure you check out the Fortress at Hogsback for a fun, nature-made playground. If you want a great way to keep your kids busy, the Adventures and Discoveries section of the Secrest Arboretum map is bound to work.
Are You Ready to Play Your Visit to Secrest Arboretum?
The magic of the Secrest Arboretum in Wooster, OH is how smoothly the man-made ideas and planning blend in with the natural environment. Each themed garden has been carefully designed to represent special concepts, landscape styles, and plants. From the embankment slide to the Arborvitae Maze, there are many things for people to see and do when they visit the arboretum.
For those who are looking into Secrest Arboretum because they're relocating to Wooster, OH or a nearby city like Akron or Canton, we'd love to help! Give Krupp Moving a call today at (330) 359-1491 to learn about our Wooster movers and schedule the job!