Located approximately five miles northeast of Akron, Tallmadge is one of Ohio's hidden gems.
Tallmadge is known for the Tallmadge Circle landmark, its picturesque suburban neighborhoods, and for being the second-oldest city in Summit County. The city was first founded in 1807 and was named after Benjamin Tallmadge (who was a significant figure in the Revolutionary War). One interesting fact about Tallmadge is that alcohol could not be bought or consumed within the city until the 1990s, with public consumption not being allowed until 2001.
Planning on moving to Tallmadge in the near future? If so, check out a complete guide to the city's demographics, restaurants, things to do, jobs, and much more!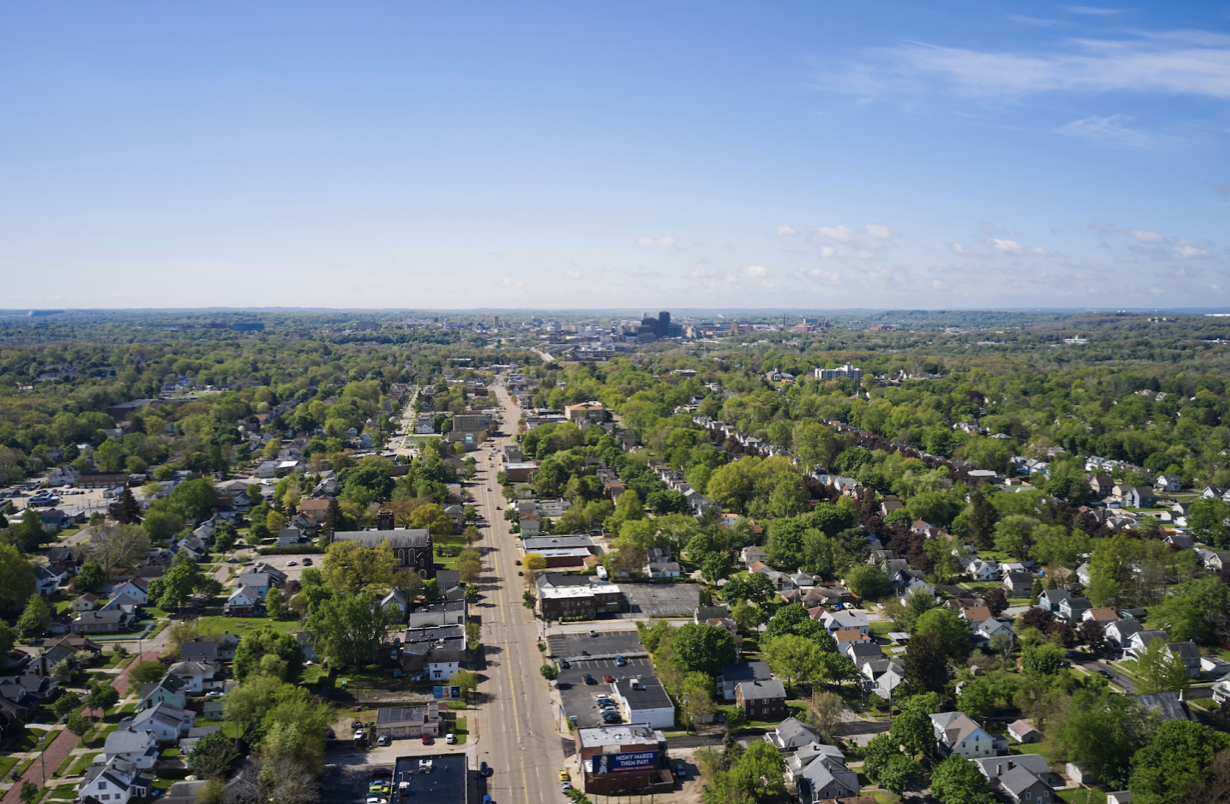 Where is Tallmadge Ohio?
Tallmadge is in Summit County, as well as a portion of Portage County. The city borders other desirable places to live, including Chapel Hill, Brimfield, and Munroe Falls. Situated minutes from Akron, individuals living in Tallmadge have access to all of the top amenities of the big city, yet reside in the midst of a cozy suburban environment.
It is approximately 13 minutes to drive from Tallmadge to Akron, or a 39 mile trip between Tallmadge to Cleveland.
Tallmadge Population & Demographics
The population of Tallmadge is 18,409. This equates to a population density of 1,311.2 people per square mile. Tallmadge's population has steadily increased over the last decade, adding thousands of new residents in that period of time.
Tallmadge Demographics:
Percentage of men vs. women: 53% female, 47% male

Median age: 46.2 years

Racial and ethnic composition: 88% White, 5% Black, 4% Asian, 2% two or more races

Median household income: $79,233

Educational attainment: 93.4% high school diploma (or higher), 32.7% bachelor's degree (or higher)

Foreign-born population: 5.5%
Tallmadge is a very safe place to live. The latest FBI data shows that the Tallmadge crime rate is 1,930 per 100,000 residents. This means that the overall crime rate is 10.6% lower than the state average and 17.7% below the national average. Even more encouraging is that the violent crime rate is 63.1% lower than the state, and the murder rate is 100% below the Ohio state average. Protecting and serving the area are the officers of the Tallmadge Police Department.
Cost of Living in Tallmadge
According to current Cost of Living Index (COLI) figures, living in Tallmadge is very affordable. With a national COLI of 100, Tallmadge has a Cost of Living Index of just 83.7. This means that living in Tallmadge is 16.3% cheaper than the national average.
Analyzing data from the Economic Policy Institute, a family of four would need to earn $75,057 per year to afford to live in Tallmadge.
Typical Tallmadge Living Expenses:
Average Tallmadge utilities per month: $266.67

Meal for two at a mid-range restaurant: $60

Preschool or private kindergarten: $600 per month

One pair of jeans: $47.17

Internet: $69.29 per month
Source: Numbeo
Moving to Tallmadge and thinking about buying a new home? According to Redfin, the median home sale price is $235,000. Houses within the city spend an average of 11 days on the market, with 55.6% of properties selling above their listing price. Check out some of the latest Tallmadge, OH homes for sale.
While living in Tallmadge, renting a home or apartment may be a better option for your lifestyle. According to RentCafe, the average cost of rent in Tallmadge is $837 per month for a 982 square foot residence.
Tallmadge Neighborhoods | Where to Live in Tallmadge
Still thinking about where you should live when moving to Tallmadge? As with most small towns across the state, there are no distinct neighborhoods within the city. However, by creating a list of your must-have amenities and conveniences, picking the best place to live in Tallmadge will be nearly effortless!
Almost every part of Tallmadge is residential, with few exceptions in the center and edge of the city. Tallmadge Circle is a bustling hub that features a variety of restaurants, retailers, and other businesses. Down the road, residents also have access to places such as Acme Fresh Market, Planet Fitness, and an array of fast food eateries.
Outside of these small commercial districts, locals are surrounded by residential roads and scenic parks. For example, on the northern side of Tallmadge, residents can walk to hotspots such as Munroe Falls Metro Park, the Summit County Fairgrounds, and the Brookledge Golf Club. This makes life in this part of Tallmadge ideal for almost anyone — especially families.
Tallmadge Ohio Weather & Climate
The Köppen classification categorizes Tallmadge as having a humid continental climate. This means that Tallmadge has warm, sunny summers and chilly, snowy winter seasons. Both spring and fall tend to be mild, with an average amount of precipitation.
Tallmadge receives an average of 38 inches of rain per year, and an average of 42 inches of snow annually. While rare, Tallmadge is classified as having a moderate risk of tornadoes.
Things to Do in Tallmadge
Wondering what things to do there are in Tallmadge? Outdoor enthusiasts are especially fond of this city, as it boasts numerous places to bask in nature. Before spending your day in leisure, be sure to accomplish all of your shopping at the Tallmadge Center Shopping Plaza.
Occupying 550-acres of scenic land, Munroe Falls Metro Park is a family-friendly and dog-friendly place to spend your days off. This spacious park features ponds, walking trails, paddle boats, grills, and much more.
521 S River Rd, Munroe Falls, OH 44262, 330-867-5511.
Situated in the center of town — and serving as a large roundabout — the Tallmadge Town Square Historic District is a wonderful spot to walk around, people watch, and enjoy the sights of the city.
Serving as one of the city's other top community parks, Indian Hills park is a marvelous place to spend the morning or afternoon with the kids. It is known for its fun playground, sports fields, and walking and biking paths.
107 Indian Hills Dr, Tallmadge, OH 44278, 330-634-2349.
Additional Attractions in Tallmadge, OH
Seeking out even more things to do in Tallmadge? One of the best places to check for events and special programs is the Tallmadge Recreation Center. Additionally, be sure to see what's coming up on the Tallmadge calendar of events.
Tallmadge Restaurants
Plan on dining out as a new resident of Tallmadge? If so, discover some of the city's best places to eat.
With a fun name and a delectable menu, Wally Waffle is easily one of the best breakfast restaurants in Tallmadge. Popular dishes include the Chicken 'N Waffle, Breakfast Burger, and the customizable Brioche French Toast.
100 North Ave, Tallmadge, OH 44278, 330-633-7400.
Family-owned and operated, Sammie's is a casual tavern that serves up tasty American fare and craft brews. Patrons are also a fan of their vast selection of top-shelf whiskey and bourbon.
498 South Ave, Tallmadge, OH 44278, 234-678-8334.
In the mood for an ultra healthy meal? Originally started in Cleveland, Fresh Planet has become a local chain that serves delicious and nutritious smoothies, fresh-pressed juices, acai bowls, and fresh salads.
116 Tallmadge Cir C, Tallmadge, OH 44278, 330-849-5099.
Jobs in Tallmadge
With Tallmadge being a small city — and one that is primarily residentially-focused — there are few employers within the immediate area. For those looking to work minutes from home, some of the biggest employers are Acme grocery store and Giant Eagle grocery store. However, the vast majority of Tallmadge residents commute to Akron for work thanks to its close proximity and abundance of career opportunities.
Data from PayScale.com shows that the average hourly wage in Tallmadge is $18.25. Prior to moving to Tallmadge, check out jobs in Tallmadge.
Tallmadge Schools
Tallmadge public schools are run by the Tallmadge City School District. Top schools in and around Tallmadge include Tallmadge High School, Tallmadge Middle School, and Highland Elementary School.
Serving the educational needs of residents and students throughout the city is the Tallmadge Branch Library, which is located at 90 Community Road.
Tallmadge Statistics & Information
County: Summit and Portage Counties

Tallmadge area: 14.06 square miles

Tallmadge zip code: 44278

Tallmadge area codes: 330

Tallmadge elevation: 1,115 feet

Tallmadge time zone: Eastern Standard Time (EST)

Closest airport to Tallmadge:

Akron-Canton Airport (CAK)

, 17.2 miles
Tallmadge, OH Map
Explore the layout of the city by checking out this interactive map of Tallmadge:
Want the best moving company in Tallmadge to help you with your upcoming journey? Look no further than Krupp Moving & Storage. Boasting 15+ years in business, and over 12,000 individual moves, we've got what it takes to deliver an exceptional experience. Call us today at 330-345-6596 to request your custom relocation quote!