Thinking of relocating to the Medina, Ohio area? Don't overlook Montville Township, a thriving community that includes part of the city. Montville Township is home to pristine lakes, several golf courses, and an affordable lifestyle surrounded by beautiful nature. The community boasts an affordable cost of living with all of the amenities of Cleveland, Akron, and Medina within reach. Here's what you can look forward to after moving to Montville Township!
Montville Township Population & Demographics
Montville Township is located in Medina County, Ohio about 38 miles south of Cleveland and 23 miles west of Akron. The township covers 21.3 square miles. Because it's in the center of the county, it's bordered by eight other townships. Part of the city of Medina is located in northwestern Montville Township.
What's it like living in Montville Township? The township has a population of 11,664 with a median age of 41, a bit higher than the Ohio average. The racial and ethnic composition of Montville Township is 91% white, 4% Asian, 1% black, and 1% Hispanic. The median household income in this affluent area is $110,500, double the Ohio median. Montville Township was ranked the 9th safest place to live in Ohio with a very low crime rate.
Montville Township is in the 44256 zip code and 440 area code.
What Is the Cost of Living in Montville Township, OH?
Is it expensive to live in Montville Township, Ohio? The good news is the cost of living in Montville Township is very close to the national average, although it's a bit high for Ohio. Healthcare and utilities are lower than average and housing is very close to average for the U.S.
One of the best ways to understand the Montville Township cost of living is by looking at housing costs. The average home price in Montville Township is $275,000 although this includes homes in Medina. That's close to the national average. You can get an idea of what you can afford by searching for Montville Township, OH homes for sale.
As a renter, what can you expect to pay? The average rent in Montville Township is $1,013. That's up from $837 in 2019. For a one-bedroom apartment, you'll pay $800 per month on average.
Montville Township Weather – What to Expect
Moving to Montville Township, OH from outside the area? You're probably curious about the climate and what you should expect. The area gets colder than southern Ohio with 34″ of snow and 39″ of rain per year — both above average for the U.S. You'll also get fewer sunny days in Montville Township with around 166 sunny days per year compared to the national average of 205.
During the summer, you can expect highs in the 80s. About 7 days out of the year, it's more than 90 degrees in Montville Township. Winter lows usually reach 20 degrees.
View this post on Instagram
Montville Township, OH Schools
While living in Montville Township, you'll be served by three school districts depending on your neighborhood:
Medina City Schools
Highland Local Schools
Wadsworth City Schools
All three districts have schools rated above-average! You can use this map from Montville Township to determine which neighborhoods are served by which school districts.
There are also private schools in Montville Township including Medina Christian Academy and St. Francis Xavier Catholic School, the recipient of the 2011 National Blue Ribbon School of Excellence.
For higher education, you can attend the Medina County University Center which has 2- and 4-year degree programs. There are also about one dozen colleges within driving distance including the University of Akron, Kent State University, and Cleveland State.
Jobs in Montville Township, OH -Understanding the Local Economy
Montville Township offers a strong and diverse economy as well as an easy commute 5.5-mile commute from Montville Township, OH to Medina, OH. The township has two main commercial areas: south Medina Road with restaurants, shopping centers, and motels and Wooster Pike Road with office buildings and independent businesses. Four golf courses in the area are also major employers.
You can also explore career options in nearby Akron. Here's what the commute from Montville Township, OH to Akron looks like.
Interested in learning a new trade after moving to Montville Township? There are several workforce development programs like the Medina County Career Center and Medina County Workforce Development Center. Both offer programs in partnership with private and public employers including technical programs in dozens of career fields.
Ready to get started exploring career options? Start with a search online for jobs in Montville Township, OH.
Best Neighborhoods in Montville Township
Before moving to Montville Township, OH, you'll probably want to explore the community's many neighborhood options. You'll find a good mix of established neighborhoods, new subdivisions, and historic homes.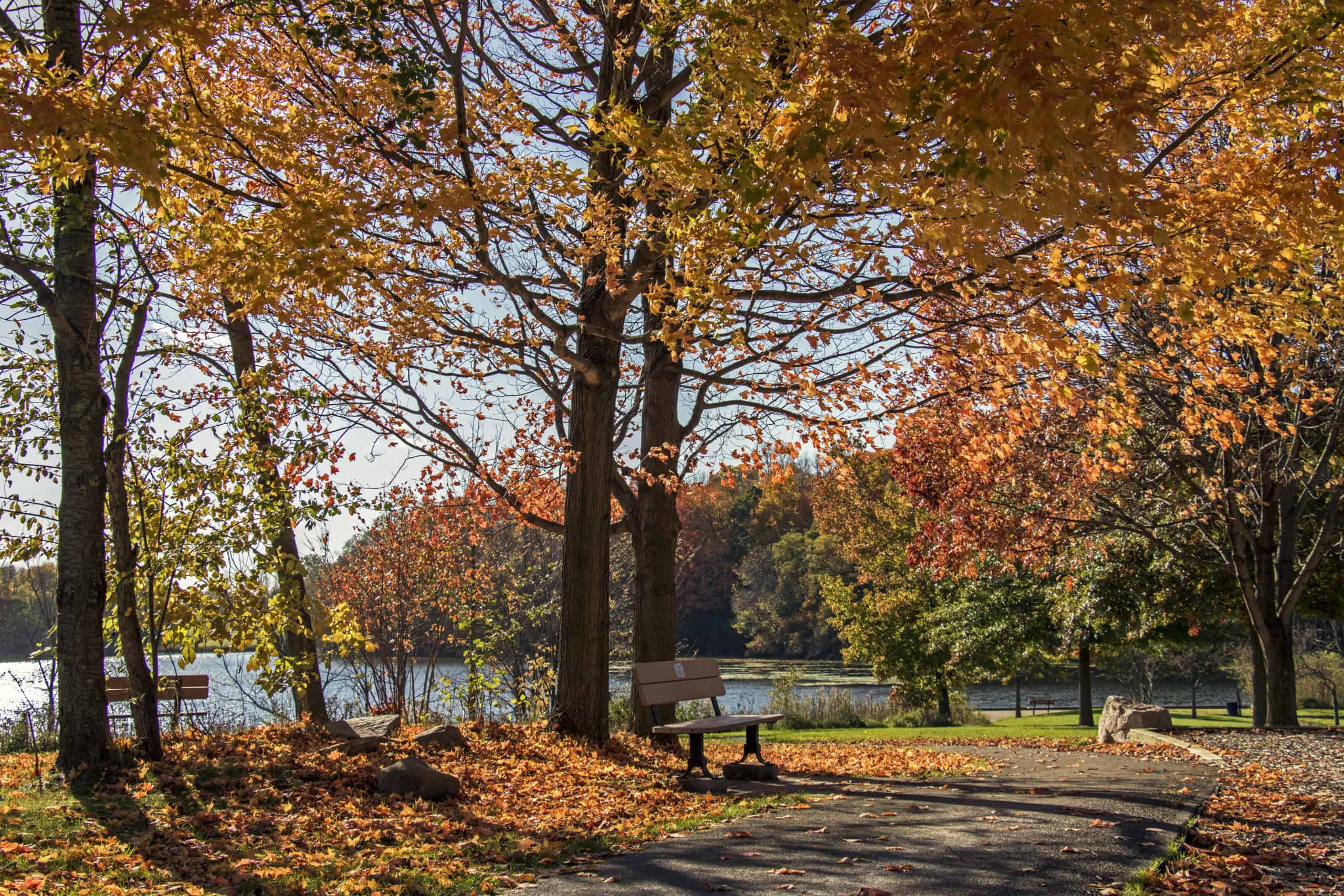 Planning on renting while living in Montville Township? Redwood Medina is located in Medina in the northwest area of Montville Township near the Fox Meadow Country Club. This pet-friendly apartment complex offers single-story apartments with attached garages for a neighborhood feel. The community even offers sponsored community events!
One of the newest Montville Township, OH neighborhoods is Maplebrooke Reserve. New single-family homes in the community range from 1,400 to over 2,300 square feet and start at $220k. Arbor Lakes at Cobblestone Park is another great choice for new homes. The community is near Sunnyslope Lakereservoir for convenient fishing!
One of the most affluent neighborhoods in Montville Township is along Sunnyslope Lake in Fox Meadow's Country Lakes. The community has single-family homes with lake access and golf course views with prices starting in the high $300s.
Top Things to Do in Montville Township, OH
How will you keep busy while living in Montville Township, OH? The area is known for its amazing outdoor recreation, lakes, fishing, parks, and golf courses. Here are some of the best attractions in Montville Township, including fun things to do in Montville Township, OH with kids.
Located in Medina, Fred Greenwood Park is always a hit with kids! Enjoy a summer splash pad, soccer fields and T-ball fields, and a playground. During softball games, there's even a concession stand.
Fred Greenwood Park, 350 W Sturbridge Dr, Medina, OH 44256 (330) 721-6950
View this post on Instagram

Hit the course at one of Ohio's best golf courses. Designed by Steve Burns, the championship golf course has hosted the Ohio Open 6 times. The country club also offers upscale amenities including a restaurant and an aquatics center with a junior Olympic-sized pool with a water slide.
Fox Meadow Country Club, 4260 Fox Meadow Dr, Medina, OH 44256 (330) 723-4653
Best Montville Township Restaurants
Montville Township may be a fairly small community but it's home to amazing restaurants with plenty of cuisine options. Here are some of the top-rated restaurants in Montville Township you'll definitely visit many times.

Corkscrew Saloon is one of the best reviewed restaurants in the region! Enjoy New American dishes from Chef Marino in a historic building.
Corkscrew Saloon, 811 W Liberty St, Medina, OH 44256 (330) 725-0220
Dominic's is a restaurant the whole family will love! Enjoy a range of comfort food from pizza and calzones to burgers and homemade chili with affordable prices.
Dominic's Italian Restaurant, 221 S Jefferson St, Medina, OH 44256 (330) 725-8424
Living in Montville Township Tips
Choose from many career options in Montville Township and surrounding cities of Medina and Akron
Explore great neighborhoods including condos, single-story apartments, new home developments, and lakefront homes
Enjoy plenty of outdoor recreation with golfing, parks, fishing, hiking, and more at your fingertips
Choose from three excellent school districts with private school options
Enjoy a cost of living about average for the United States
Is moving to Montville Township, OH in your future? There's so much to appreciate about this community with its convenient location near major cities but with plenty of natural beauty. When it's time to start your move, call the trusted Montville Township movers at Krupp Moving & Storage to get your belongings there safely and within budget.