Considering moving to Hilliard, OH? This community is one of the most affluent suburbs of Columbus and one of the top 10 best places to live in Ohio. Hilliard is known for its family-friendly attractions, great schools, and regular community events like the Old Hilliardfest Art & Street Fair and the annual Franklin County Fair.
Hilliard was founded in 1852 by John Reed Hilliard who established a farm. It was originally Hilliard's Station, an important agricultural shipping point. The name was changed to Hilliard in 1852 when a post office was established, but the city didn't begin to really grow until large subdivisions were built in the 1950s. The population grew from just 610 in 1950 to 5,600 in 1960 – a tremendous population growth of 823%!
Young professionals and millennials appreciate the quality of life and cost of living plus short commute to downtown Columbus. Families appreciate the top-rated parks, aquatic centers, educational opportunities, and low crime of living in Hilliard.
Here's everything you have to look forward to as you consider whether relocating to Hilliard, Ohio is in your future.
Hilliard, OH Population & Demographics
Hilliard is located in Norwich Township in Franklin County about 14 miles northwest of Columbus, Ohio. The population of Hilliard is 36,500 within 14.3 square miles with a population density of 2,552 people per square mile. The city is bordered by Dublin, Columbus, Upper Arlington, and Galloway.
The racial and ethnic composition of the city is 84% white, 6% Asian, 5% Black or African American, and 3% Hispanic. There are 49 males for every 51 females. The median age is 36.8, a bit younger than the Ohio median.
Hilliard is an affluent Columbus suburb with a median household income of $97,000. That's far higher than the Ohio median of $56k and the Columbus metro median of $65k.
Hilliard, OH is a safe place to live with a violent crime rate 82% below the national average! There were just 26 violent crimes and 242 property crimes reported during all of 2019. The city is served by the Hilliard Division of Police.
What Is the Cost of Living in Hilliard?
Is Hilliard, OH affordable? Despite its affluence, the city is an affordable place to live. The Hilliard cost of living index is 97 or 3% lower than the national average. That's still much higher than the Ohio cost of living index of 83.
Transportation and healthcare are around 10% below the national average while groceries and utilities in Hilliard are right at the national average. Housing pushes the city's living costs far above the state's average.
The median home price in Hilliard is $302,000 which is up almost 12% year-over-year in summer 2021. You'll find everything from two-bedroom condos in the mid-$100s to large estates priced at more than $2 million. Explore Hilliard, OH homes for sale to see just how much home you can get for your budget in this beautiful suburb.
By comparison, the national median home price recently hit $350,000. However, that's an all-time high and it was just $283,500 in 2019. This dramatic increase was caused by the COVID-19 pandemic.
Considering renting after moving to Hilliard? The average rent is $1,198 for an average apartment size of 948 square feet according to RentCafe. That's more than $150 more than average rent in Columbus, but Hilliard rent is more affordable than neighboring Dublin.
To give you an idea of what you can get for your rent budget – and why the Columbus area is attracting so many millennials – here's one of the most popular Hilliard apartment buildings. Crystal Lake Apartments has units starting at just $959 per month with lake views, free gym membership, and a clubhouse!
Embed: https://www.facebook.com/crystallakeapts/photos/10158083990624643
Best Hilliard Neighborhoods | Where to Live in Hilliard
Ready to explore the best neighborhoods in Hilliard for families, young professionals, and retirees? Hilliard may be a small city, but it has dozens of amazing neighborhoods and subdivisions including luxury condos and apartments, quiet and affordable neighborhoods, and new master-planned communities.
No matter which neighborhood you choose, the Hilliard Recreation and Parks Department offers plenty of amenities to enjoy with 25 city parks plus athletic facilities.
Here's a look at some of the best and newest neighborhoods.
Haydens Reserve – Best Condo Development in Hilliard with Freestanding & Attached Condos & Upscale Amenities
Want maintenance-free living at its best? Haydens Reserve is one of the best places to live in Hilliard. This community has 70 attached and freestanding condos with two-car attached garages and amenities you'll love. You'll find 3- and 4-bedroom condos with open floor plans and up to 2,800 square feet for all the living space you need. Who says condo living needs to be cramped? The development also has a clubhouse with a heated pool and fitness center.
Heritage Preserve – Nature-Focused New Development in Hilliard Near Downtown Columbus
Heritage Preserve is one of the newest subdivisions in the city. This Fischer Homes development is nature-focused with a park setting. Bike and walking paths lead to Heritage Trail, a covered pavilion, wetlands, and an observation tower. It's also close to downtown Columbus – perfect for commuters and young families.
Hampton Oaks – Hilliard Neighborhood Walking Distance to Old Hilliard
Want to be near the action? This quiet residential subdivision is within walking distance of downtown Old Hilliard with shopping, restaurants, and community events like the Hilliardfest street festival. It's also minutes away from the Hilliard Family Aquatic Center and just outside the 270 loop. It's hard to beat Hampton Oaks for location!
Ballantrae – Prestigious Hilliard Golf Community
Ballantrae is one of the most in-demand neighborhoods in Hilliard. Located between Dublin and Hilliard, this community was inspired by the Irish countryside with stacked stone walls, walking paths, fishing lakes, an interactive fountain, and a golf course. It's also right next to South Pool in Dublin. Ballantrae is popular with families and retirees alike with 640 acres separated into ten individual neighborhoods. You'll find everything from affordable condos to large, luxury homes.
Hilliard, OH Climate | What's the Weather in Hilliard Like?
View this post on Instagram
The Hilliard climate is humid continental. You'll experience four distinct seasons while living in Hilliard. Be ready for humid, hot summers with about two weeks of extreme heat every year. Winters can be quite cold with an average winter low of 21 degrees. Hillard gets 22" of annual snowfall and 40" of annual rainfall. Don't forget to shop for a good raincoat before moving to Hilliard!
The best time to visit Hilliard is June through September for pleasant weather and outdoor activities and festivals. July and August experience the most extreme heat and humidity, however.
Top Things to Do in Hilliard, OH
Hilliard may be small, but it's packed with great amenities, outdoor activities, shopping, and dining. It's also just minutes from top-rated zoos, museums, and more in Columbus! While living in Hilliard, you'll be close to shopping at Mill Run, Hilliard Square Shopping Center, Market At Hillard, Kohl's, CAM International Market, and Walmart Superstore.
Here's a quick look at the top Hilliard, OH attractions and parks. You'll find some great picks for things to do in Hilliard with kids or on a date!
This boutique bowling alley has much more to offer than bowling: there's a two-story laser tag area, restaurant, arcade, full bar, patio with bocce ball, and even live music! It's one of the best things to do in Hilliard for families or for a night out with friends.
Ten Pin Alley, 5499 Ten Pin Alley, Hilliard, OH 43026 (614) 876-2475
This gorgeous 44-acre park is the crown jewel of Hilliard. Explore the replica train station and covered bridge plus a fishing pond, playground, paved trail, and sand volleyball.
Homestead Metro Park, 4675 Cosgray Rd, Hilliard, OH 43026 (614) 216-8859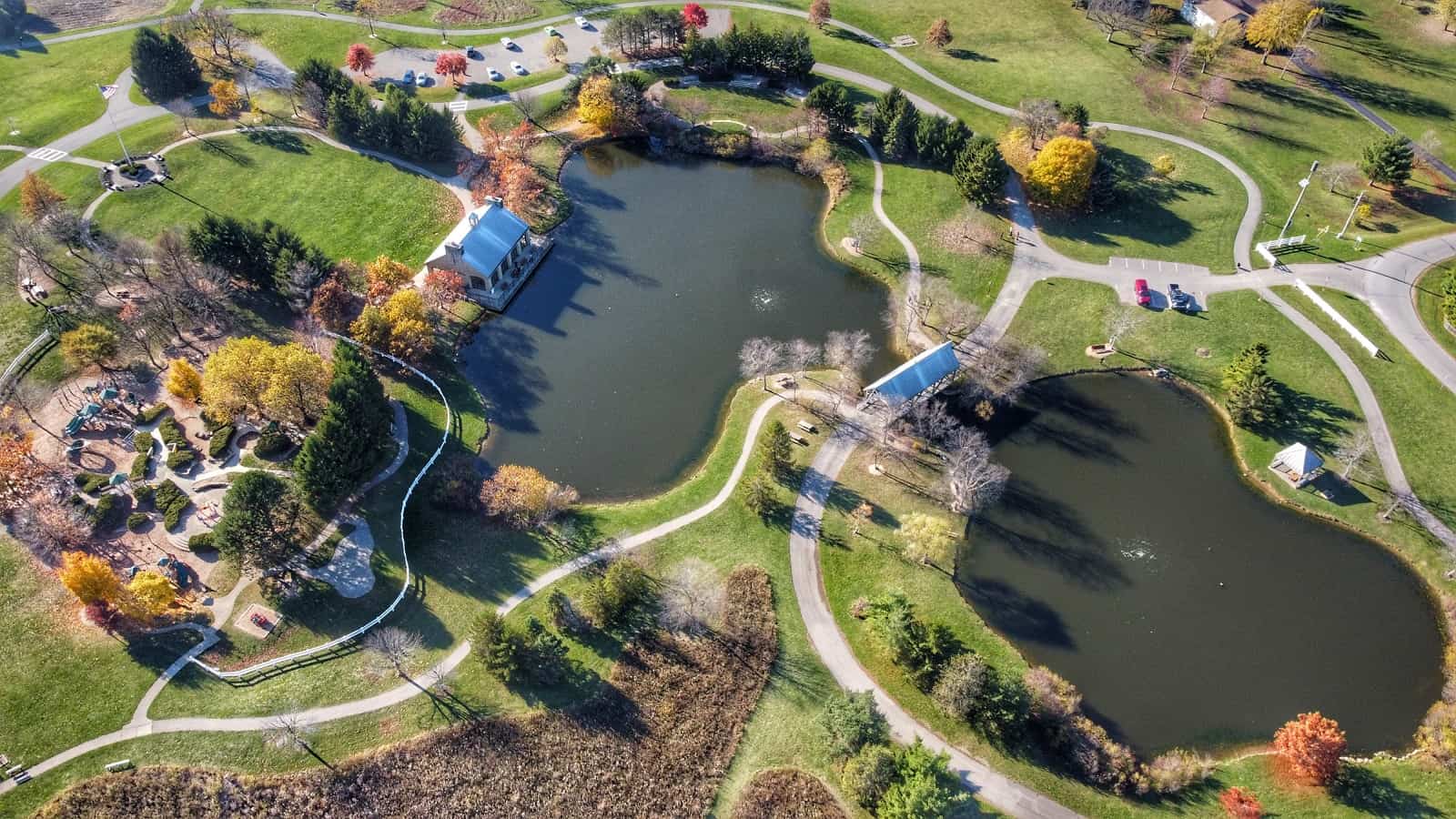 Additional attractions in Hilliard:
Great Hilliard Restaurants
From small, family-owned restaurants and upscale eateries to authentic Cuban, Greek, and Thai cuisine, you'll find the city has a large number of highly rated restaurants you'll love. Here are just a few of the best places to eat in Hilliard.
Beer Barrel Pizza and Grill. Catch a game and enjoy classic American fare, pizza, cocktails and draft beer. This restaurant has been a Hilliard icon since 1965! Beer Barrel Pizza and Grill, 2500 Roberts Ct, Hilliard, OH 43026 (614) 681-3663
Starliner Diner. This local favorite is a great place to grab lunch with friends with a menu featuring burgers, pizza, and chili. Starliner Diner, 4121 Main St, Hilliard, OH 43026 (614) 529-1198
The Goat Hilliard. One of the best places for nightlife in Hilliard, this hangout has a fun cocktail menu, an upscale pub menu, and sand volleyball. It also hosts live music and league games. The Goat Hilliard, 4265 Brooklands Dr, Hilliard, OH 43026 (614) 470-5550
View this post on Instagram
Jobs in Hilliard, OH
How much does it cost to live in Hilliard? The average salary is $64,000, according to Payscale. The average hourly rate is $17.51.
The Columbus area is one of the top metro areas in the U.S. for the concentration of young professionals and the only metro area in the eastern half of the U.S. The region has a diverse economy with major sectors including medical research, energy, health care, technology, insurance, banking, defense, aviation, and steel.
Hilliard has about 1,100 companies employing about 16,000 people. Many people living in Hilliard work in Columbus, however. Here's what your 14-mile commute from Hilliard, OH to Columbus, OH looks like.
The largest employers in Hilliard are:
Hilliard City Schools
BMW Group
Amazon
Major employers in the greater Columbus area include the Ohio State University, Chemical Abstracts, Battelle Memorial Institute, Nationwide Insurance, JP Morgan Chase, Huntington Bancshares, and Worthington Industries.
Hilliard Schools | Public Schools & Private Schools
While living in Hilliard, you'll be served by the Hilliard City School District. The district also serves parts of Columbus, Galloway, Dublin, and Norwich and Brown townships. The Hilliard public school district includes 14 elementary schools, three middle schools, and three high schools.
The district has won awards for its music education at its Innovation Campus. This revolutionary learning hub serves students from the high schools and middle schools with a multidisciplinary setting, personalized learning opportunities, and courses not available in the traditional schools.
Programs at the Innovation Campus allow students to explore interests, learn how to start a business, and more with collaboration and advanced levels of arts, language, music, and math. They even partner with local organizations for mentorships and college credits. Learn about the Innovation Campus programs here.
Considering private schools? The city is home to Sunrise Academy, a K-8 Islamic school, and Saint Brendan School, a K-8 Catholic school.
You can also explore higher education opportunities after moving to Hilliard. Ohio State University is just 7 miles away and Franklin University is 14 miles away, both in Columbus.
Students and other residents enjoy free access to the Columbus Metropolitan Library Hilliard branch.
Hilliard Statistics & Information
Population: 36,500
County: Franklin County
Total area: 14.45 square miles
Zip code: 43026
Area codes: 614 and 380
Time zone: UTC-5, Eastern Standard Time (EST)
Elevation: 935 feet
Hilliard, OH Map
Living in Hilliard Pros & Cons
Pro: Great quality of life with high median household income but affordable housing and living expenses
Pro: Excellent public schools with a unique Innovation Campus for all students to earn college credits, learn skills, and explore advanced interests
Pro: Lots of outdoor recreation with golf courses, lakes, public swimming pools, hiking, and top-rated parks
Con: Home prices in Hilliard are among the highest in the Columbus metro area
Ready to make living in Hilliard, Ohio a reality? Give the friendly Hilliard movers at Krupp Moving & Storage a call today at 614-892-9046 for a free moving quote to get started.