In the rushed whirlwind of packing and moving, wine glasses, bottles and other fragile furnishing end up at risk in the shuffle. Knowing how to pack wine glasses like a professional can save you both time and trouble when it comes time to prepare for your moving day. Even wine and liquor bottles require extra care, as they make boxes both excessively heavy and require special handling from home to the moving truck.
We'll break down how to tackle two important topics when moving with wine glasses: How to pack wine glasses for moving — or if you're mailing things ahead for a long-distance move — how to ship wine glasses quickly and safely. As a quick rundown, the best way to pack wine glasses for your move or shipment is to:
Wrap each glass individually with packing paper or bubble wrap
Use cardboard box separators
Fill in any gaps with cell packs, packing paper or bubble wrap
Keep antique crystal glassware separate and well-marked
Properly label boxes and inventory for movers
Only use high-quality packing materials
Ask for advice from your movers whenever in doubt
And as far as how to pack wine bottles:
Inventory your wine collection before you begin
Separate by type, value and temperature requirements
Reinforce the bottom of each cardboard box before filling
Properly mark each box and set aside for movers
Have a plan for when you arrive in your new home for immediate storage
Parts of a Wine Glass
Before we get started, here's a quick reminder of each part of the wine glass. Each part should have its own padding or wrapping as distributes weight differently.
Rim: the top opening of the glass
Bowl: widest section of the glass, which varies in size based on the type
Stem: the long support beneath the bowl
Foot: circular base of the stem
Now let's dive a bit deeper into prepping everything from wine glasses, champagne flutes, and antique crystal flutes to your favorite wine bottles before moving day. Utilizing this and other moving tips and tricks can make the packing process fast and stress-free.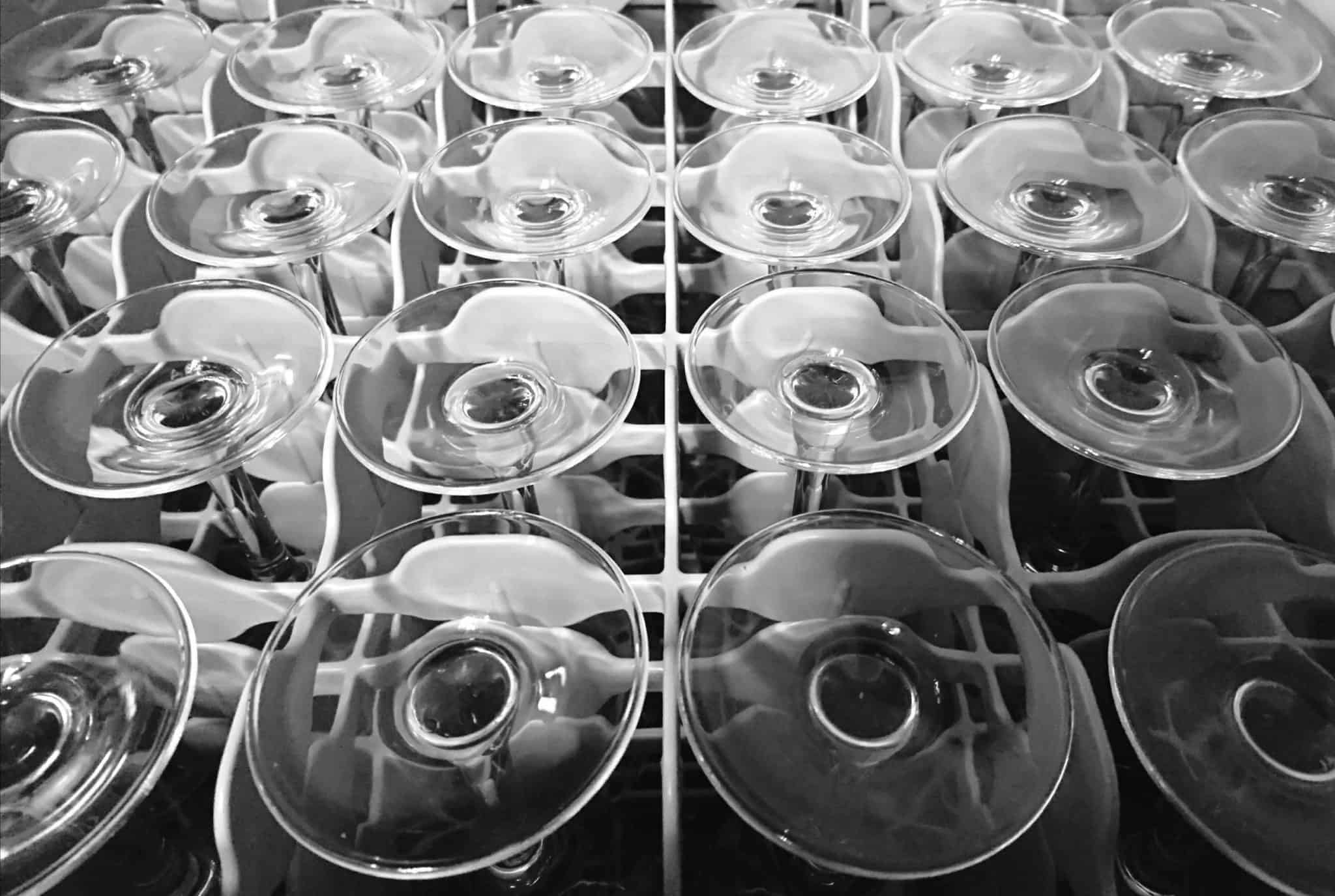 How to Pack Wine Glasses for Moving
Gather the Right Packing Supplies
The best way to pack wine glasses — and any fragile items for that matter — always begins with the highest-quality packing supplies. If you're having trouble finding specifics, check in with your moving company to rent or purchase the newest and most trusted professional materials on the market. Your local liquor and hardware store may also have the specific separators necessary for packing wine glasses.
For both packing wine glasses and bottles, you'll need:
Heavy-duty cardboard packing boxes
Cardboard glass and bottle separators
Packing peanuts (for shipping only)
Packing-grade paper — newspaper works as well, though ink can run while in transit
Role of small bubble wrap
Packing cells for filling in empty spaces in each box
Packing tape
Scotch tape for securing paper and bubble wrap
Scissors
"Fragile" label
Materials for inventory list
Protect Before Packing
Once you have all your packing supplies ready, clear off an area so you have plenty of space to work. Packing wine glasses requires a bit more time, so it's best to do this a little earlier in your process. Buy some travel wine glasses — often made of plastic — to hold you over to the big day.
Different parts of the wine glass require different protection. The more padding around the glass, the less chance of chips, scuffs and damaging pressure.
To begin:
Reinforce the base of your packing box with an extra piece of fitted cardboard, extra tape and the wine glass separator.
Fill the globe of the wine glass with paper without forcing too much pressure.
If the stem is particularly fragile — as is the case of crystal and antiques — wrap an extra piece of bubble wrap around the step before wrapping the whole glass.
Lay the glass on its side on top of several sheets of paper and gently roll, tucking the ends as you go.
Lightly secure the top and bottom of the paper with tape.
Slide each wrapped glass into an individual cardboard compartment of the box until full.
Tip: For wide-mouthed glasses for red wine, be sure not to overpack your wine glasses boxes. In this case, alternate cells and fill the empty spaces with paper or bubble wrap.
Once your box is full, place a layer of bubble wrap on top of the box before closing. Clearly mark the box as "fragile" and "do not stack." Add a number or letter to the box to match your inventory list for east unpacking later. Keep these boxes to the side so you can alert your movers when they arrive.
If you want to skip packing wine glasses altogether, consider renting or buying a wine glass storage box. You'll recognize these containers from restaurants and event companies who use wine glass carriers for easy transport.
How to Pack Wine Glasses for Shipping
If you're sending wine glasses ahead of your move or simply sending them as a gift, the trick comes down to proper padding and protection. Packing boxes don't necessarily translate to shipping sizes. You also have no control over how much the box will be jostled in transit. So it's best to play it safe.
When packing wine glasses for shipping:
Fill a medium-sized box halfway with packing peanuts or similar materials
Wrap each glass as you did for shipping, filling the globe gently and reinforcing the stem before wrapping in paper.
Consider a layer of bubble wrap around the paper before laying flat into the box.
When the box is closed, the packing peanuts should keep anything from shifting when moved.
Label with the word fragile and check in with your post office about the best method for transporting glass

How to Pack Wine Bottles
Liquor stores often have leftover wine boxes fit with the separators from their last delivery. However, these boxes are not meant for long-distance travel. Reinforce your boxes or choose styrofoam, plastic or wood wine cases for extra safety. Moving your wine collection — particularly if it's higher in worth — is also about maintaining the quality and integrity of your investments so you don't want to skimp on packing materials here.
1. Inventory your wine
Take a picture of each wine bottle as you go, adding its name and box number to an inventory list for easy unpacking. Separate wine by type and value, making sure to focus on the highest value and set aside so you can store it away as soon as you arrive.
2. Choose a strong wine box
Shipping companies set reinforced cardboard boxes with wine bottle separators as well as sleeves and cases for individual boxes. Base your choice on the value of your collection.
Less-expensive bottles can be packed similarly to your wine glasses:
Secure the bottom of the box with extra cardboard and tape before beginning
Wrap each bottle in several sheets of packing paper, tucking in the ends and securing with tape
Place wrapped bottles into individual cardboard cells
Top off with bubble wrap
Secure box with tape
Mark as fragile and set aside
Pricier bottles in your collection are best kept in individual wine cases that then stack within reinforced boxes. Wooden crates and boxes that came with the wine are also good alternatives, as they often include space for additional padding and provide a more eco-friendly option than styrofoam.
Best Way to Pack Wine Glasses and Bottles: A Rundown
Though this part of packing takes a bit more time than your book boxes, you'll be happy you took the time when moving day comes. Remember to always:
Purchase the best packing materials
Take extra care with antique items
Wrap all parts of the wine glass gently
Separate in boxes with individual cells or packing peanuts
Reinforce your box
Label clearly and track with an inventory list
Spend a calm afternoon packing wine glasses way ahead of your move to be sure you're not rushed in the end. You can even enjoy a nice glass of wine as you go!