Furnishing a new home, or upgrading the one you currently live in, is a fun and creative project! However, furniture shopping can be overwhelming too. There are so many styles, retailers, and price points that you can end up going to store after store without much success. However, we put together a list of Columbus furniture stores to help you narrow down your search! Whether you're looking for contemporary, modern, or traditional, we've got you covered – and your budget too! Check out our list of top-rated furniture stores in Columbus below.
Havertys Furniture | Top Notch Quality Furniture in Columbus
Havertys Furniture makes it to the top of most "where to shop in Columbus" lists, and for good reason! Since 1886, shopping at Havertys has guaranteed great quality materials and finishes, so you can rest assured your purchase will last. As a local favorite, Havertys carries a wide range of styles, including contemporary, traditional, rustic, mid-century modern, and beyond; that makes it a great place to start if you're unsure what style you're going for. Overwhelmed by the options? Havertys in-house designers are there to help you find your way to the living room, dining room, bedroom, or home office of your dreams! Havertys also offers a wide range of decor and rugs, so you'll be able to get everything you need in one place.
Hours: Monday – Saturday 10:00AM – 7:00PM, Sunday 12:00PM – 6:00PM
Address: 935 Polaris Pkwy, Columbus, OH 43240
Phone: (614) 785-6190
T.Y. Fine Furniture | Craftsmen Furniture Store in Columbus
T.Y. Fine Furniture began in 2004 by engineer Tarik Yousef. Yousef works with local craftsmen to create a selection of handmade, high quality wood furniture without hefty price tags. Whether you need a quality bed, office furniture, dining room table and/or chairs, lighting, or tables, you'll find them all here in timeless styles. They do custom work as well, so you can get the furniture of your dreams at an affordable price. T.Y.'s furniture is built with multi-generational use in mind, so you know whatever you choose will last you a long time. Though the majority of T.Y.'s selection is handmade wooden pieces, they have expanded to include leather chairs and sofas by American Leather. Since the craftsmen are all local, T.Y. can easily accommodate custom orders for whatever it is you need. Quality is first priority here, making this one of the top furniture stores in Columbus.
Hours: Tuesday – Saturday 11:00AM – 6:00PM
Address: 4555 N High St, Columbus, OH 43214
Phone: (614) 230-2477
Family-owned Furniture Land Ohio has been providing high quality furniture at great prices since 1998. They offer several, flexible payment and financing options, and prices that truly work with any budget. Furniture Land carries inventory in many decor styles, including bedroom sets, sofas and loveseats, entertainment centers, divider screens, and leather seating. Furnishing an outdoor space? Furniture Land Ohio has you covered there too! Customers speak highly of the knowledgeable, helpful staff and fast delivery. Make sure you check the website before you visit the stores – Furniture Land may have posted coupons for even more savings!
Hours: Monday – Saturday 10:30AM – 8:00PM, Sunday 12:00PM – 5:00PM
Address: 1395 Morse Rd, Columbus, OH 43229
Phone: (614) 447-8505
Since its inception in 1936, Howard Brooks Interiors has been creating timeless spaces for Columbus residents. Howard Brooks's in-house design team has impeccable taste and decades of experience tailoring customers' spaces to their unique taste level. In addition to their full range of furniture, lighting, wall coverings, upholstery, window treatments, Howard Brooks has endless additional options for customization. Their style ranges from classic and traditional to bold and exciting, so no matter what your style, they can accommodate you. If you're looking for high end furniture in Columbus, you'll find it at Howard Brooks Interiors. This is the perfect spot for those who want a unique look unlike anything else you can find.
Hours: Tuesday – Saturday 10:00AM – 4:00PM
Address: 7227 N High St #264, Worthington, OH 43085
Phone: (614) 888-5353
Rooms For Less | Budget-Friendly Columbus Furniture Store
Founded in 2007, Rooms For Less is a family-owned furniture retailer with several locations throughout Columbus and the surrounding areas. With a wide range of brands, Rooms For Less and their highly experienced staff can outfit your room or home no matter what your budget is. And the options aren't limited to the rooms inside your home – check out Rooms For Less's huge selection of outdoor furniture and firepits! Their styles cover all the bases, so whether you're looking for industrial, casual, contemporary, or rustic, you'll find everything you need at Rooms For Less. Not confident that what you want will work with your space? Their website has a fun, interactive room planner so you can envision your room before purchasing!
Hours: Monday – Saturday 10:00AM – 8:00PM, Sunday 11:00AM – 5:00PM
Address: 2150 S Hamilton Rd, Columbus, OH 43232
Phone: (614) 604-9995
Studio J | Eclectic Assortment in Dublin
If you're looking to have some fun with your space, head to Studio J. With June Sedlak Mooney at the helm, this colorful and warm boutique-like showroom is bursting with color and prints. June and her team carefully curate their selection and focus on construction, shape, and materials – they don't stock just any item. The team will work with you to create the perfect look for your space, with high end furnishings that will last for years.
Hours: Monday – Saturday 10:00AM – 6:00PM, Sunday 12:00PM – 5:00PM
Address: 4505 W. Dublin Granville Road, Dublin , OH 43017
Phone: (614) 401-4009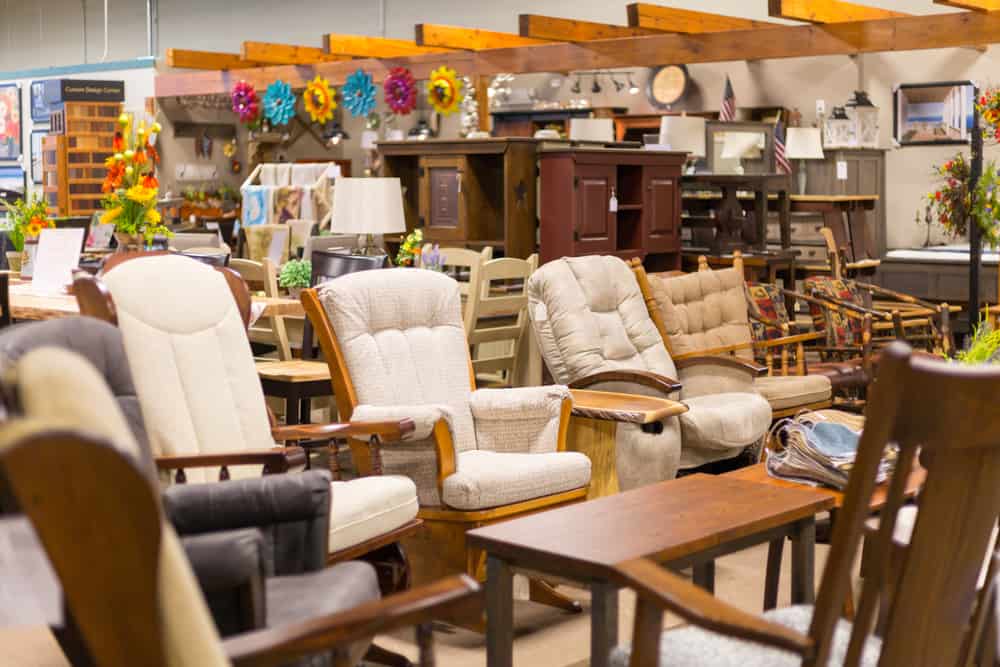 Amish Originals has been a top destination for handcrafted furniture in the Columbus area since 1992. Everything in Amish Originals is made with care by local Amish woodworkers using traditional, tried-and-true methods that ensure every piece will last for generations. Amish Originals is committed to sustainable practices. All their furniture is made from responsibly sourced American hardwood, and any waste is reused. Amish Originals will happily and carefully deliver your items for a small fee; delivery is $59 if you're located within 20 miles of their location, and slightly more if you're farther away. Shop the store for bedroom, dining room, office, storage, outdoor and nursery furniture, or discuss having a custom piece made!
Hours: Monday – Thursday, Saturday 10:00AM – 5:00PM; appointments welcome
Address: 38 N State St, Westerville, OH 43081
Phone: 614-891-6257
Grid Furnishings | Modern, Unique Furniture in Columbus
If you're looking for cutting edge, modern design, you'll love Grid Furnishings. Everything at Grid is designed in North America and the inventory is carefully curated. Innovative brands include Adapt, Blu Dot, Modloft, Oeuf, and Pablo Designs. Grid Furnishings carries sleek and unique shelving solutions, lighting, seating, desks, tables, and beds. If you know your style is modern but not sure how to execute it, Grid Furnishings offers customers in-house design services to help you carry out the living space of your dreams. Looking for the perfect piece of art for your home or office? Grid also hosts art exhibitions and sells original artwork you're sure to love.
Hours: Monday-Saturday 11:00AM – 6:00PM, Sunday 11:00AM – 4:00PM
Address: 661A High Street, Worthington, OH 43085
Phone: 614-725-4292
No matter what your home needs, American Freight Furniture and Mattress has it! American Freight doesn't just carry name-brand furniture for any room, they also stock decor, appliances, and mattresses. You're sure to walk away with a deal when you shop at American Freight – their inventory is priced at up to 70% off retail prices. In addition to their huge selection of new furniture, American Freight offers refurbished, discontinued, and slightly dented or scratched items for even less. American Freight offers shipping and delivery, and can get you your items as quickly as same-day! Ask about assembly options, and check their website for deals and coupons before you shop!
Hours: Monday-Saturday 10:00AM – 8:00PM, Sunday 11:00AM – 6:00PM
Address: 5055 East Main Street, Columbus, OH 43213
Phone: (614) 861-5300
Columbus Furniture Stores Map
 Are you researching furniture stores in Columbus because you're moving here? Put your move in the most trustworthy professional moving company in Columbus. Krupp Moving will get you transferred with no stress! Call 614-892-9046 today for your free quote!